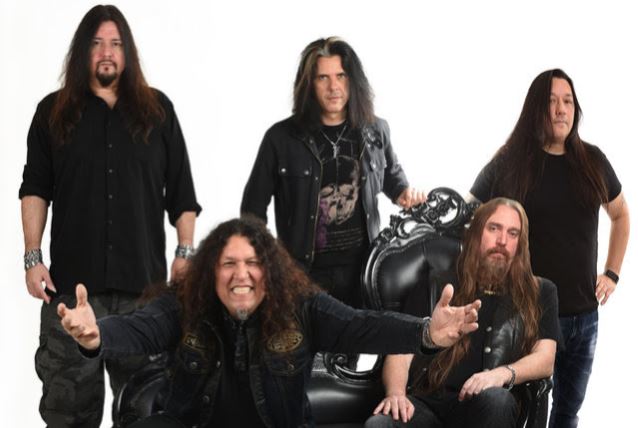 Legendary bay area thrash metal giants TESTAMENT, release their brand new album, "Brotherhood Of The Snake" today via Nuclear Blast. The band also kicks off their European tour with AMON AMARTH and label mates GRAND MAGUS today. See dates below.
As part of the album countdown the band had released another video trailer yesterday in which singer Chuck Billy and guitarist Eric Peterson discuss the last two tracks on the album, "Canna Business" and "The Number Game". Check it out below tour dates.
Order the album today digitally via iTunes or Amazon. Various physical formats (Digibook, Limited Box Set, Limited Mailorder Box Set, Vinyl) are also available from Nuclear Blast here.
Play the official "Brotherhood Of The Snake" game! Earn up to 666 points to prove you're a worthy prospect for the brotherhood, and keep on playing to get inducted and claim your spot in the global high-score! Check out Official Lyrics video for "Brotherhood Of The Snake" here.
TESTAMENT will support "Brotherhood Of The Snake" on their European run with AMON AMARTH this autumn.
TESTAMENT live
+ AMON AMARTH & GRAND MAGUS:
28/10/16 Oberhausen, Germany @ Turbinenhalle
29/10/16 Hamburg, Germany @ Sporthalle
30/10/16 Brussels, Belgium @ Forest National
31/10/16 Manchester, England @ Academy
01/11/16 Glasgow, Scotland @ ABC
02/11/16 Dublin, Ireland @ Vicar Street
04/11/16 London, England @ Roundhouse
05/11/16 Birmingham, England @ Academy
06/11/16 Tilburg, Netherlands @ O13
07/11/16 Paris, France @ Casino de Paris
09/11/16 Bilbao, Spain @ Santana 27
10/11/16 Porto, Portugal @ Coliseu do Porto
11/11/16 Madrid, Spain @ La Riviera
12/11/16 Barcelona, Spain @ Razzmatazz
13/11/16 Lyon, France @ Transbordeur
15/11/16 Lausanne, Switzerland @ Metropole
16/11/16 Zurich, Switzerland @ Komplex 457
17/11/16 Offenbach, Germany @ Stadthalle
18/11/16 Ludwigsburg, Germany @ MHP Arena
19/11/16 Munich, Germany @ Zenith
21/11/16 Milan, Italy @ Alcatraz
22/11/16 Vienna, Austria @ Gasometer
23/11/16 Leipzig, Germany @ Haus Auensee
25/11/16 Prague, Czech Republic @ Forum Karlin
26/11/16 Geiselwind, Germany @ Eventhall
27/11/16 Berlin, Germany @ Columbiahalle
—
29/11/16 Athens, Greece @ Gagarin 205
30/11/16 Thessaloniki, Greece @ Principle Club Theatre
02/11/16 Fort Lauderdale, USA @ 70.000 Tons Of Metal