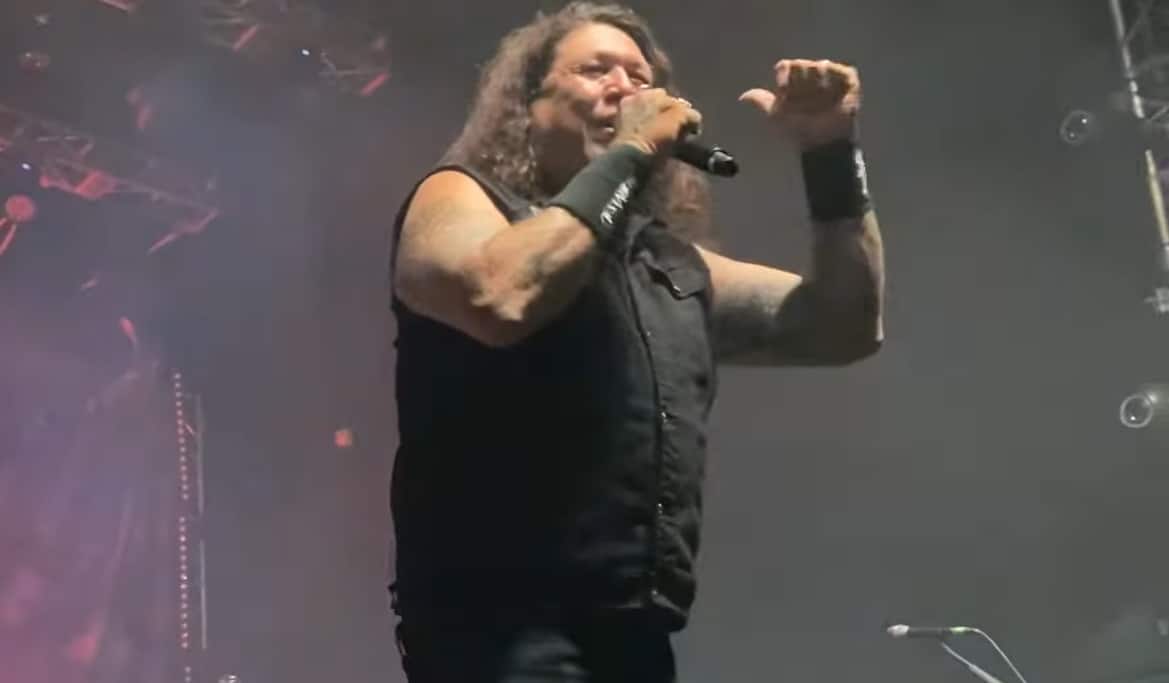 During a performance in Colombia, TESTAMENT vocalist Chuck Billy made a subtle dig at the band's ex-drummer Dave Lombardo. While presenting TESTAMENT new drummer Chris Dovas to the crowd at their May 2nd concert at Teatro Royal Center in Bogotá, Billy mentioned Lombardo's name.
Before starting the song "D.N.R. (Do Not Resuscitate)," which was featured on the only TESTAMENT album Lombardo participated in, 1999's The Gathering, Chuck introduced the group's new drummer to the fans.
"Stand up and take a bow. Give it up for Mr. Chris Dovas. Lombardo who? Yeah. That's Chris Dovas right there. Don't forget it," Billy said to the crowd (see video below).
Dave Lombardo has recently announced his absence from the rest of TESTAMENT's 2023 shows, with no assurance of rejoining the group in the future.
Lombardo mentioned obligations to his endeavors beyond TESTAMENT – such as involvement with the MISFITS, MR. BUNGLE, and his latest most recent projects EMPIRE STATE B*STARD and SATANIC PLANET – as the reasons.
In a conversation with Blabbermouth regarding his plans for the current year, Dave said: "I haven't been able to play with SUICIDAL [TENDENCIES] because he [frontman Mike Muir] is not on tour as often or as much as I'd like. When I joined them in 2016, man, it was on. But then the pandemic [happened], and I believe he has [health] issues. I think he's had a couple of surgeries on his back. It's limited the amount of shows he does a year. I haven't played with them in a while."
"I'm focusing on the MISFITS, MR. BUNGLE, EMPIRE STATE BASTARD, and in 2022, when I was on tour with TESTAMENT, I had stuff lined up that was starting to build for 2023," he continued. "With TESTAMENT, we were having several scheduling conflicts. I couldn't back out of them. I won't be joining them on their upcoming tours for 2023. My focus is on BUNGLE, who I've recorded an album with back in 2019 and we did a live album. EMPIRE STATE BASTARD, I recorded an album for them in 2020.
"That's going to finally see the light of day later this year. We've already released a single. I'm not doing the [upcoming] shows with SATANIC PLANET… I won't be performing with them. Instead of doing live shows [with SATANIC PLANET], I really like to just be more on the production and songwriting side. It's very industrial, very dark. It's got a very evil vibe, but great guys nonetheless. Some of the most kindest people I've met in my life, which contrasts with the music."
Lombardo was subsequently questioned regarding his potential involvement with TESTAMENT in the near future, such as participating in the group's upcoming studio album. He responded: "I don't know, because everything is starting to snowball with MR. BUNGLE and EMPIRE STATE BASTARD and the MISFITS," he said. "I've been with the MISFITS since 2016. TESTAMENT is a well-oiled machine. They're always touring and releasing albums. To try to find that space or that time to release something… I don't know."
In response to the question of whether his position in TESTAMENT is "uncertain," Lombardo said: "Yes. It's wait-and-see. I can't guarantee anything because of my commitments. I did fulfill my contractual commitment for 2022, which was quite extensive. We did one of the longest tours I have done. It was like seven weeks in Europe, which was great. I really needed to get out there and build my chops after the pandemic. That was a lifesaver. We'll see. The relationship is good. The doors are open. The communication is there. I told them that I was seeing some clashes coming up. This was in the first week of January when I reached out to Eric [Peterson, guitar] and told him. This has been brewing for a while. Actually, I saw it in November/December of last year. I started seeing, 'Oh no. This is going to happen. This is not going to happen.' It's very tricky."
Soon after the interview came out, Lombardo posted a statement on his social media, appearing to clarify that he is not departing from TESTAMENT but rather taking a break from their touring events this year for the previously mentioned reasons.
He wrote in a statement: "We knew 2022 was going to be relatively easy, as far as schedules go, between myself and Testament. Unfortunately, 2023 has not been so easy. After months of trying to work out specific tour dates, our schedules are just conflicting too much to make sense this year. Therefore, I will not be joining TESTAMENT for their 2023 tour dates.
"We are all thrilled that we were able to share the stage last year, it's some thing we wanted to do for a very long time. I had an amazing experience with the band and am wishing them all the best moving forward. To the TESTAMENT fans, thank you for welcoming me, making every show a killer experience, and for your understanding as we all move forward."