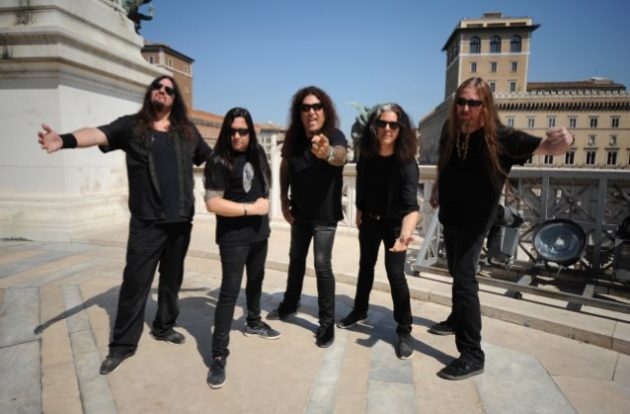 In an interview with Full Metal Jackie, TESTAMENT guitarist Eric Peterson talked about his black metal project DRAGONLORD (who are releasing a new album on September 21st, entitled "Dominion"), the iconic Bay Area thrash metal band being part of the conversation when people speculate about a hypothetical "Big Five" of the genre (along with METALLICA, MEGADETH, SLAYER and ANTHRAX), and their follow-up to 2016's "Brotherhood of the Snake".
On how the new TESTAMENT record will compare to "Brotherhood of the Snake":
I have a pattern with the way I write I'm very very picky. Chuck always says it gonna be sooner than later so I'm always later. I'm just tardy my whole life, [laughs] But it's only because I'm picky and I'm not gonna put something out that I'm not happy with just for the sake of it. I guess to me I'm the bad guy but I think in the long run once it comes out people are like, "Hell yeah" so with that being said I'll say it's gonna be close to you know what we've done in the last three records but fresh. No one has to fear that we're gonna like cut our hair off and write a bunch of pop tunes — it's gonna be heavy. Just heavy and evil.
On what keeps TESTAMENT an interesting and relevant band:
For me, not compromising with everybody and just doing what I do riff-wise. It's pretty just me and Chuck on the last records as a team and [even] not as a team. [There's] a lot of fighting to get where we're at or maybe even going in circles. Sometimes I go in circles but we always know we're going to land on our feet.

I've heard a lot of demos that I rediscovered — some of the demo stuff we've had with Chuck with patterns and riffs and what not. [It's] weird to hear how "More Than Meets the Eye" was actually a part of "Dog Faced Gods." It's weird how I took parts from parts, but library wise I have a lot of stuff. As far as a song. I don't have any songs yet but I have like a library and that's cool because when you go jam with someone you can just take a riff and you start jamming on it and before you know it you know the drummer comes and starts feeling it and starts doing something else and you're like, "Whoops." But, it's not a "Whoops," it's like, "That's killer," so that's kinda how it happens for us.
On a timeline for the new record:
TESTAMENT stuff probably '19 I would say. Mid-2019 and for the [new] DRAGONLORD [album] September 21st is the official release date. A lot of mom and pop shops will have LPs and bundles and what not. I can't wait for everybody to hear it!