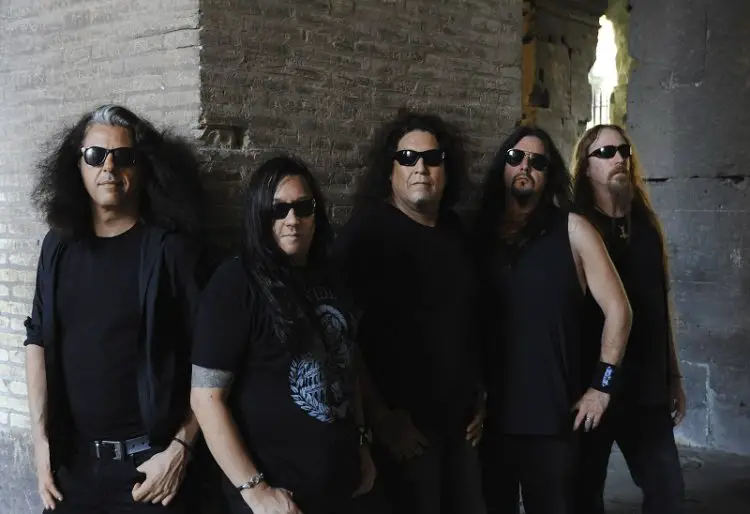 TESTAMENT frontman Chuck Billy has confirmed to 102.9 The Hog radio station that the band has completed work on their next album.
When asked if there are any musical "surprises" on the new record, Billy responded: "I don't know about surprises, but I think we definitely keep TESTAMENT fans on their toes as far as it's always something new, always a different twist, always a different feel, but still being TESTAMENT.
"So I think again Eric [Peterson, guitar] really captured some new riffs. The mix is pretty straightforward TESTAMENT, like it's been, but I think the songwriting is definitely a little bit… It has a little of everything; it's got a bunch of different moods on the record. Again, I think fans will be, like, 'Yeah, right on.' It's definitely a different TESTAMENT record."
"We have some moody stuff, but I wouldn't say we would gear up to try to write a ballad," he continued. "I just think — I don't know if that's really who TESTAMENT is."
TESTAMENT's latest album, Brotherhood of the Snake, was released on October 28, 2016. It is the band's first studio recording with bassist Steve Di Giorgio since First Strike Still Deadly (2001). Brotherhood of the Snake also marks Testament's fifth collaboration with Andy Sneap, who had mixed and engineered all of their albums since The Gathering (1999) and produced Dark Roots of Earth (2012). The album debuted at number twenty on the Billboard 200 chart, making it TESTAMENT's second-highest-charting album in the US, behind Dark Roots of Earth, which peaked at number twelve four years earlier.