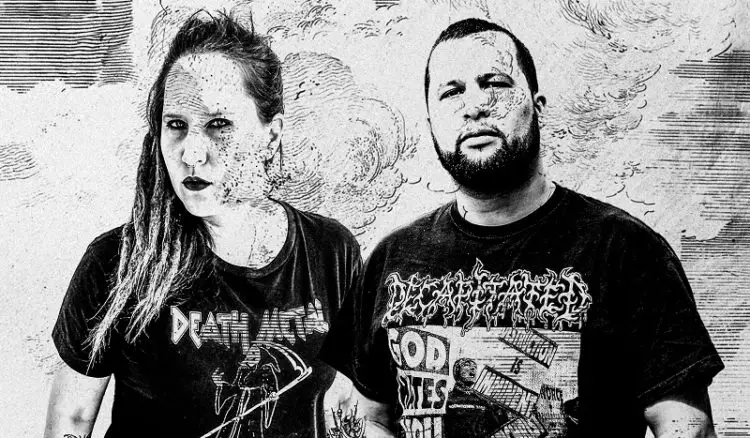 TESTOSTERUINS is a female fronted African Death Metal duo based in Lund, Sweden (Hometowns: Tunis and Cape Town). The band is now premiering their first single "F—k Sharaf—k!" off their debut EP, Suffering Masculinity, to be released on March 2019.
Listen to the "F—k Sharaf—k!" below.
Based in Lund, Sweden and active since January 2018, TESTOSTERUINS plays a blend of massive grooves and solemn melodies while writing iconoclastic lyrics and stand against the persistent plague of patriarchy. Band vocalist Jo Marie grew up as a metal raging soul and turned to be an extreme metal vocal authority within the South African and African scene of the genre. In 2015, she joined Cape Town's full-female thrash metal band Junkyard Lipstick and as an avid deathster she introduced growling to the band.
She also fronted the tribute band Bloodbarf, homophonically named after Swedish death metal monsters Bloodbath. In 2018 she joins forces with Tunisian producer and multi-instrumentalist Heny Maatar, mostly known for his electrock/experimental project Fusam with which he toured in countries like Lebanon, Germany and Sweden.
Heny started as a drummer at an early age and thrived on extreme metal genres before forming ShallIShine [progressive metal] in 2008 with teenhood friends then TESTOSTERUINS in January 2018.
Suffering Masculinity track listing:
The Injector
F—k Sharaf—k!
AniMale
Suffering Masculinity