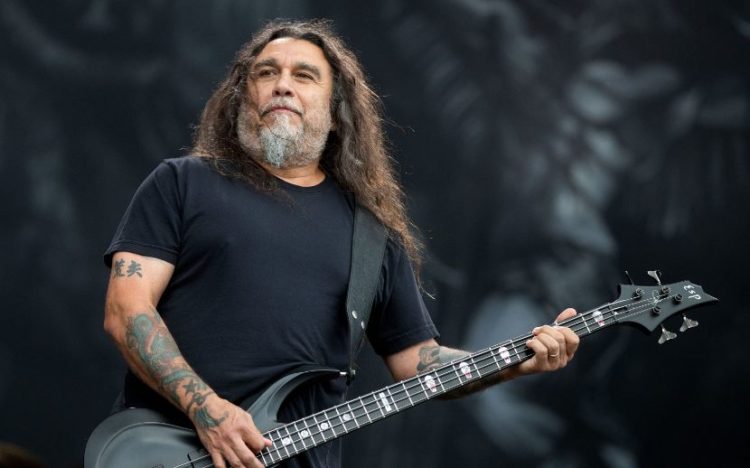 A Galveston, Texas-based lawyer who decided to go for a walk on a beach while dressed as the classic "Halloween" character Michael Myers bumped into SLAYER frontman Tom Araya.
Galveston police said officers received a call on September 13 of a masked man with a knife with blood on it. When police arrived at the scene, they detained Mark A. Metzger III and learned the knife and blood were fake. Police said Metzger was cited for disorderly conduct and released," ABC13 reports.
The next day, Metzger took to his Facebook to share a couple of photos of him with Araya — a longtime Texas resident — and he included the following message: "When you're pranking Galveston and run into the lead singer of F*CKIN SLAYER!!! Happy 26th Anniversary Tom and Sandra!!! #theislandattorney #tomaraya #slayer #galvestonisland Tom Araya Fans."
SLAYER played its final show of their farewell tour in November 2019 at the Forum in Los Angeles. One day later, Kerry King's wife, Ayesha King, said that there is "not a chance in hell" that the thrash metal icons will reunite for more shows.
Kristen Mulderig, who works with SLAYER's management company, Rick Sales Entertainment Group, said that there will still be more stuff from the band in the future.
"We're in legacy mode. which is a lot to do, even though they won't be making records or on the road. They still have their endorsers, there's still merch and branding to do — sync licenses and who knows? Maybe coming up with some sort of event that is SLAYER-based. This is all stuff we're thinking about and talking about. SLAYER lives on, absolutely."