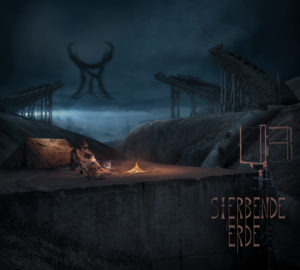 It's been some time that all the great stuff is coming from extreme metal bands. It's an undeniable fact. Thakandar with "Sterbende Erde" prove that this theory is right. Ok that the instrumental isn't made by virtuosos, but who needs them when you are full hearted and full of creativity. "Sterbende Erde" is seven tracked and no track is similar to each other. Some are dirty and fast, some are of that bestial beauty we've been talking about for years in black metal bands.
Thakandar are a band that can recreate the speed of light drumming era to them go to a slow tempo in a sec. "Sterbende Erde" is an effort that combines tradition and modernity. That's why it is so precious. Guitar riffing also combines tradition and modernity in technique. Sometimes use and abuse of power chords riffing to go to the omnipresent high tuned guitar phrasing in modern black metal. The combination gives "Sterbende Erde" its unique sound. It will be no wonder if Thakandar gather a big legion of fans soon. And thanks to the special guests as singer Ricarda Krabbemeyer in "Hinter dem Schatten" and "Signal of Sorrow." She's also responsable for the piano in "Todesmarsch II: Verbannung."
Thakandar are also a band that are able to pass the concept idea of the album title "Sterbende Erde" (Dying Earth) to songs. All songs have this apocalyptic atmosphere. You can feel it in your bones. Not an easy task, I must say. Few bands can do that as Thankandar did. Not to mention the folk passages that highlight all the effort.
Truth be told guys, if you want to hear something cutting edge in terms of Metal, look for extreme metal bands. You'll find it there. I have no more doubts about that after listing – and enjoying – Thakandar with "Sterbende Erde." BTW, they sing in German. Didn't even notice. Or bother.
Track Listing:
Erbschuld
Hinter dem Schatten
Signal Of Sorrow
Todesmarsch I: Verdammnis
In der Asche der Alten
Todesmarsch II: Verbannung
Sterbende Erde
Watch "Hinter dem Schatten" official video here: