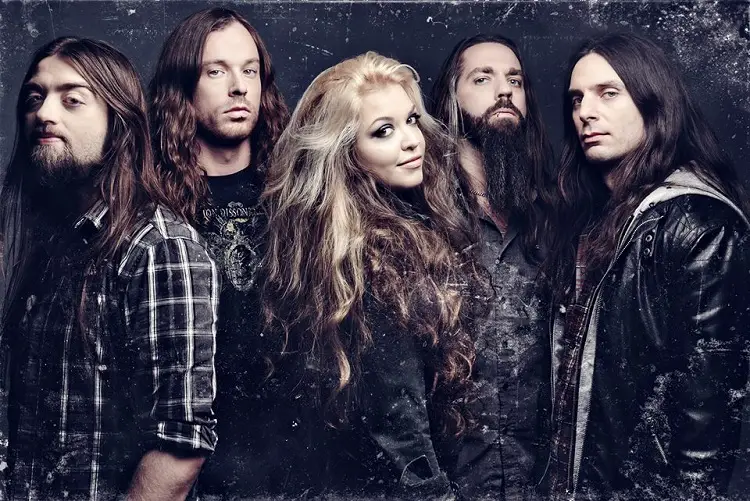 THE AGONIST will release their new album and Napalm Records debut "Five" on September 30th. Today the band has dropped the first official video from "Five", for the song "The Moment". You can watch it below.
"Five" was produced by Mike Plotnikoff at West Valley Studios.  Mike has engineered and produced such artists as Buckcherry, Flyleaf, My Chemical Romance, Apocalyptica, P.O.D, Halestorm, Skillet, Seether, P.O.D. Three Days Grace, Aerosmith, and Kiss. More information about "Five" can be seen here, where you can also hear the first single "The Chain" in a lyrics video.
Maor Appelbaum handled the mastering at Maor Appelbaum Mastering studios.  Maor has had the pleasure of mastering recordings for major international acts such as: Faith No More, Yes, Starset, Ill Nino, Dokken, Fates Warning, Sepultura, Yngwie Malmsteen, Armored Saint, Lita Ford, Butcher Babies, and more.
Frontwoman Vicky Psarakis spoke about the making of the video:
"The Moment' was probably the most exciting and demanding video I've had to shoot so far. Chris (bassist / FTB Visuals director) came up to me with the idea to create a "storyline" with a close up of just my face singing the lyrics underwater. And we achieved it by building a box with a plexiglas panel that fit my head, while the rest of my body was standing and perfectly dry. I guess you could say it was scary and awkward to have just your head submerged underwater and a bit dangerous to have to perform the entire song in that position, but honestly, I wouldn't mind doing the whole thing all over again!"
Check out the upcoming tour dates:
European Tour:
27.09.2016 – Fryshuset Klubben- Stockholm, Sweden
28.09.2016 – Sticky Fingers – Gothenburg, Sweden
30.09.2016 – Tube – Dusseldorf, Germany
01.10.2016 – Epic Metal Fest – Tilburg, Netherlands
02.10.2016 – De Kreun – Kortrijk, Belgium
04.10.2016 – Opera Concert Hall – St. Petersburg, Russia
05.10.2016 – ???? ?????? – Moscow, Russia
07.10.2016 – Sala Becool – Barcelona, Spain
08.10.2016 – Sala la Burbuja – Castellon, Spain
09.10.2016 – Sala Maladar – Seville, Spain
11.10.2016 – Sala tbc – Lisboa, Portugal
12.10.2016 – Sala Lemon – Madrid, Spain
13.10.2016 – Sala Azkena – Bilbao, Spain
THE AGONIST W/XANDRIA, Epica and Fleshgod Apocalypse:
11/4: Quebec City, QC @ Imperial Theater
11/5: Montreal, QC @ Corona
11/6: Toronto, ON @ Phoenix Concert Hall
THE AGONIST W/Arkona, Epica and Fleshgod Apocalypse:
11/8: Chicago, IL @ Concord Music Hall
11/9: Minneapolis. MN @ Cabooze
11/11: Saskatoon, SK @ Saskatoon Event Center
11/12: Calgary, AB @ Marquee
11/13: Edmonton, AB @ The Ranch
11/15: Vancouver, BC @ Vogue Theatre
11/16: Seattle, WA @ Studio 7
11/18: San Francisco, CA @ Social Hall
11/19: Los Angeles, CA @ The Regent
11/20: Las Vegas, NV @ Vinyl at Hard Rock Hotel
11/22: Denver, CO @ Summit Music Hall
11/23: Lawrence, KS @ Granada Theater
11/25: Dallas. TX @ Gas Monkey Live
11/26: Austin, TX @ Empire Control Room
11/28: St. Petersburg, FL @ State Theater
11/29: Atlanta, GA @ Masquerade
12/1: Baltimore, MD @ Soundstage
12/2: New York, NY @ Webster Hall
12/3: Worcester, MA @ The Palladium