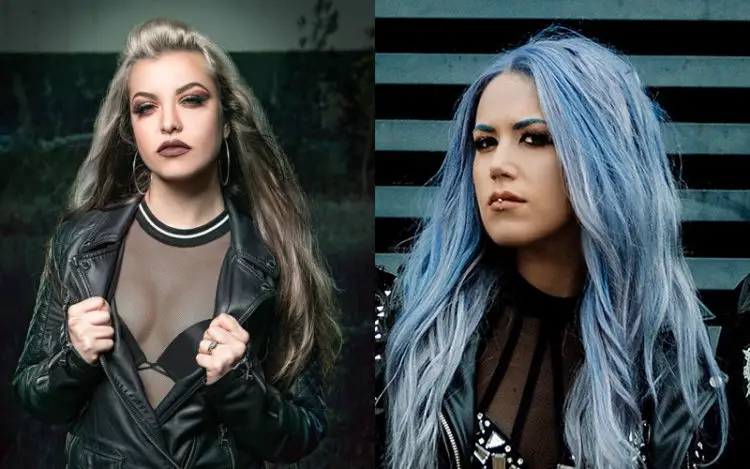 THE AGONIST guitarist Danny Marino says that he would be open for a fut tour with ARCH ENEMY in the future.
When asked in an interview with "Vox&Hops" if there is any chance that THE AGONIST and ARCH ENEMY could team up for a tour, he responded (hear audio below): "Now, no… I'm not one to be, like, 'Never forgive,' or anything like that, which is the title of an ARCH ENEMY song, since [Alissa] joined [them] — 'Never Forgive, Never Forget'… So, I'm never like that. I would consider it if there was an open discussion between their band and our band."
Marino also said that he doesn't enjoy having bad blood between him and Alissa. "Not only do we live in the same city [Montreal], we live in the same district of the same city. She lives on my street — at the other end of it. But it's not a long street. And she hasn't moved. And neither have I.
"And I've never seen her [after she left the band], which is crazy, if you think about it," he continued. "The fact that my drummer, who lives on the other side of the city, has seen her multiple times on the street. And the last time [she saw him], I think, she crossed the street. But then, at the same time, she saw [bassist Chris] Kells at a show, and there was a bunch of people around from different bands that everyone knew each other — I forget what show it was he was at — and she said hi to him."
In September, THE AGONIST singer Vicky Psarakis gave an interview to Rock Confidential, in which she claimed that ARCH ENEMY frontwoman, Alissa White-Gluz had been trying to hold band back.
"I think it's okay if I were to speak openly about it. I'm not one to cause drama but I think for anyone that's out there and watching and kind of seeing what's going on, I think it's fairly obvious that the person that's been trying to hold us back is Alissa.
|In the beginning, she was doing it a lot through interviews and just talking very badly about the band members. That is super awkward for me, because this is a person I've never met in my life, so it's weird for me to be talking about it.
"There's no knowing how far and to what extent her reach could be to hold this band back. I definitely know some stuff that she's done and other things are just speculation. So, I don't wanna throw that out there, but I will say that she has been trying to kill this band ever since she was fired."