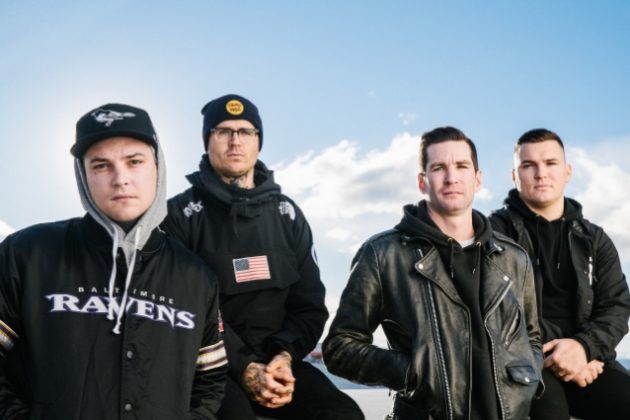 THE AMITY AFFLICTION singer Joel Birch says that he had every right to call out a fan who was sporting a Donald Trump jersey at the band's concert in Las Vegas, explaining that he "will not stand for people jeopardizing the happiness of others, and ruining their experience at one of our shows."
The incident in question took place on Saturday (January 5) at the Brooklyn Bowl, where the Australian metalcore act was performing alongside SENSES FAIL. Birch later tweeted about the incident, defending his words he used at the show.
"What I said tonight was much more balanced than I could have been, and wanted to be," he wrote. "Just like I wouldn't wear an atheist tee to church, I expect people to exercise a certain decorum when attending our shows.
"Music has forever been a safe haven for me, and I want our shows to be a safe haven for others. These shows are no different to church. We sing together, we pour our hearts out, we use it as an escape from the reality of our everyday lives, and it brings us together."
He continued: "Wearing a jersey that you KNOW will be divisive is exactly the opposite of what I stand for as a person. I do not respect your 'beliefs.' I do not feel like you have the right to make others uncomfortable by wearing a jersey that may as well be branded with a swastika. I will not remain silent if you come to our shows dressed like that. You can believe whatever you want to believe while you are outside the venue, but don't you DARE bring your negative energy inside to intimidate and cause discomfort to others. I wish you didn't like our band. I wish you hadn't come to the show. I wish you could see the hurt you inflict on those around you from ethnic backgrounds, people of colour, Latinos, Hispanics, cholos and open-minded people who do not espouse your racist garbage.
"I love AMITY fans. They give us this unique and beautiful opportunity to play music, but I WILL NOT stand for people jeopardizing the happiness of others, and ruining their experience at one of our shows. To put it simply, you are not welcome."