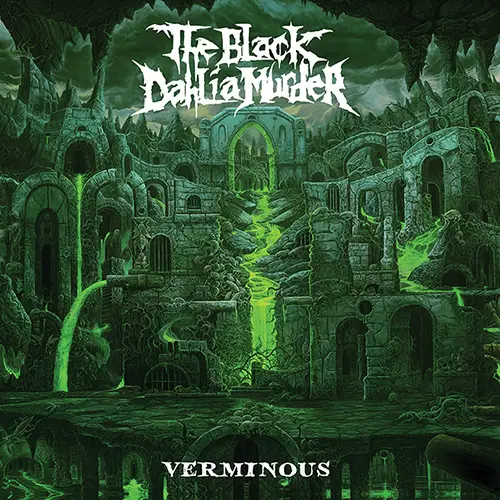 There are a grand number of bands that we could easily consider to be among the most influential acts that grace the current scene and we could sit here for weeks discussing it, but there's no denying whatsoever that of all the bands that would make such lists it would be The Black Dahlia Murder that would be a definite constant. They've been a band that's been helping shape the style from the very forefront of the scene since day one, and their albums have been no less than monumental for both veterans and newcomers as their sound is nigh on infectious. And speaking of infectious, The Black Dahlia Murder refused to do anything except that as they penned their upcoming effort of "Verminous" and it's by the end of this ripper that we've gotten an album that could very easily shape the future releases for the new decade in a very grandiose way.

What's important to know about this album is that it's far from anything that we haven't come to expect from the likes of The Black Dahlia Murder, but it's all throughout this new effort that we can see this band go harder than they have in years with such tantalizing works that tie the entire work together far too well. Even if you've come to revere many of their past albums or have just known the albums for years but not actually listened to them, there's no denying the power that's pouring out of every note that we find within "Verminous" as it was all crafted with utmost destruction in mind with their awesome power to back it all up. Every inch of what we're treated to in the entirety of this record shows us just what exactly this band can still whip up after putting out so many influential records while still keeping things a little fresh for both themselves and the fans in more ways than one.

Everything that's brought to the table for "Verminous" allows us to see The Black Dahlia Murder at their highest quality that we've seen in years despite their competency and talent always being sky-high over the years, but it's here that we see it taken to another level. If you ask me, it wouldn't be far off to consider this to be one of their absolute best that they've put out, and it's with every track of "Verminous" that we can see the proof of that. Between the undeniable riffs, enormous power, and the massive presence that The Black Dahlia Murder has become all but known for, what isn't there to look forward to with this sound that has a fresh coat of paint on it? Just that alone should get you excited about what's brought forth here, and to even contemplate about this being the band's best work really gets the brain going because that promises for something completely out of this world, and what better band to be doing that for modern death metal than The Black Dahlia Murder?

Truly, they couldn't have done any better on this album, and even though the band's tenure speaks for itself, "Verminous" succeeded in standing proudly all on its own. There are so many bands that are constantly at the forefront of the death metal world that are pushing their own boundaries, and there's no doubt that The Black Dahlia Murder has long been such an act. If there is ever to be an album that will stand as a testament to their commitment to their craft in recent times, it should absolutely be this one.
"Verminous" releases on April 17th via Metal Blade Records! You can pre-order the album here.

Track Listing:
1. Verminous
2. Godlessly
3. Removal of the Oaken Stake
4. Child of Night
5. Sunless Empire
6. The Leather Apron's Scorn
7. How Very Dead
8. The Wereworm's Feast
9. A Womb in Dark Chrysalis (Interlude)
10. Dawn of Rats