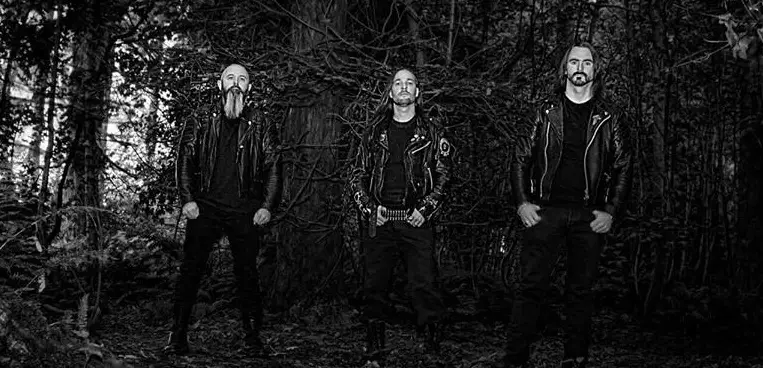 Formed in the winter of 2014 against the bleak concrete backdrop of Lisburn city, Northern Ireland, THE CRAWLING have came a long way since their humble beginnings. Influenced by Paradise Lost, Katatonia and Bolt Thrower, THE CRAWLING use a guttural vocal to combine melancholy with weight, churning out a heavy, doom/death ensemble. January 2015 saw the debut single "Choking On Concrete", which put the band on the scene, followed in October 2015 by the critically acclaimed "In Light of Dark Days" 3 track EP. 2016 was a massive year for the band; most notably performing at Inferno Metal Festival in Norway, and Bloodstock Open Air in England. The festival appearances have been reinforced by successful headline shows at home, which culminated in a main stage slot at the highly respected Siege of Limerick festival in Southern Ireland.
With the announcement of the bands debut album "Anatomy Of Loss" now brought to the fore, the band have revealed an album trailer which offers the first glimpse into what's over the horizon. Set for release 7th April 2017 via Grindscene Records, featuring no less than seven tracks expressing desperation and defeat and artwork from Travis Smith (Anathema, Bloodbath, Death…) THE CRAWLING strive to spread their brand of misery ever further.
You can watch an official trailer video for "Anatomy Of Loss" below.
Vocalist/guitarist Andy Clarke comments: "'Anatomy of Loss' is an album inspired by true events. It examines experiences of the band first hand, and what we see in our everyday lives. In short, it is a collection of stories about loss, regret and despondency. It looks at how people develop mechanisms to cope with grief, failure and heartbreak; and more often than not – the inability to do so. The recording process consisted of fun, despair, rage and subsequently immense satisfaction. Translating a song from the rehearsal studio to record is a daunting task, but this album was particularly challenging."
"I have my own studio, so we figured we would simply invest in
ourselves, and spend far too many hours ensuring everything was captured just as we wanted. The results were inspiring; we have a heavy, clear and vigorous production showcasing the songs perfectly."
TRACKLISTING:
1. An Immaculate Deception
2. Poison Orange
3. Acid On My Skin
4. All Our Failings
5. The Right To Crawl
6. Violence Vanity and Neglect
7. Catatonic