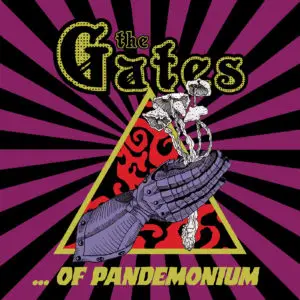 I never thought I would have a Metal band here to review with such influences of Bauhaus,  Joy Division or New Order. No, never in my life. I have to say that by the initial seconds of "The Cosmic Crypt" I thought to pull it out. The initial electronica passage was too much for me and I was wating for the Metal to come to make it meaningfull. And for mine and my fan's sake it came. I advise my dear fan that the music here is really quirky and too uncanny even for me. The Gates is a name that inspires Metal but the outcome of "…Of Pandemonium" – another Metal inspired tittle – isn't that Metal. But wanna know what? The album is good as hell.
The pros of is "…Of Pandemonium" that besides the totally 1980s electronica intro the album goes into a more Gothic Rock vibe with lots of Prog Rock keyboards and the intime and usual melancholy and sadness of Post Punk and Gothic Rock. Add to that some acid guitars and vocals that mix the melancholy of Bauhaus with the pungent of Black Metal and voilà that's The Gates got. This combination is bombastic as "The Wizard" tells. Pay attention to the guitars that emulate New Order's bass lines –  if you know the band, my dera fan, if you don't never mind. Just to make you understand. But I guess the most quirk mix comes in "The Reborn" where the main riff addresses to Kiss "I Was Made for Loving You" and the aformentioned New Order. Ah, and the keyboards have that something of Uriah Heep. Perhaps this is the most bombastic and strange album I've reviewed this year. By far. But wait a minute! "Dark Lord" comes with a pungent NWOBHM main riffing and cadence in its intro.  The combination between the guitars and the Casioish keyboarding sounds a little bit out sometimes but I guess that's the real intent. To provoke that discomfort to the fan. Lots of discomfort.
I'm sure that "…Of Pandemonium" isn't the kind of album to standard fans. Not Metal, not Gothic. It requires a different vibe and mood to appreciate it at full. It's not only different. It's more than that. It's provocative. It's here to prove that music goes far from labels and styles. My guess is that the guys here are big fans of Metal and tried to make a hybrid with New Order. Or the other way around.
The Gates "…Of Pandemonium" will be released on May 13th via Northern Silence Productions.
Track Listing:
The Cosmic Crypt
2. Unlock the Gates
3. Funguss
4. The Wizard
5. The Reborn
6. Dark Lord
7. In the Gaze of the Beast
8. The Ghost of the Knight
Watch "In the Gaze of the Beast" official video here: