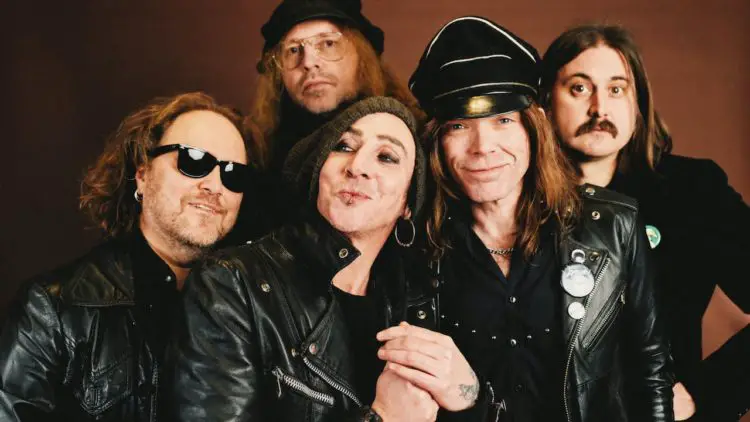 Swedish high energy rock and roll band THE HELLACOPTERS will release its 8th studio album called "Eyes of Oblivion" on April 1st, 2022. It will be the first full length since the release of their temporary farewell record "Head Off" in 2008! And boy, y'all are in for a treat!
NICKE ANDERSSON (vocals & guitars) reveals:
"The album has 10 songs and although it's obviously not easy to be objective at all, I think musically it sums up everything we've touched upon from the start in 1994 up until now. Some of the songs date back as far as 10 years or more, and some were written more recently. It's rock and roll played with high energy, so for lack of a better term I say 'High Energy Rock And Roll'. You could say it sounds like The Beatles meet Judas Priest or Lynyrd Skynyrd meets the Ramones but the best way to describe this album is that it sounds like The Hellacopters today."
THE HELLACOPTERS were formed in 1994 by Nicke Andersson (vocals and guitar), Dregen (guitar), Kenny Håkansson (bass) and Robert Eriksson (drums). At that time Andersson was renowned in the metal scene for his work in well-known Swedish death metal band ENTOMBED and Dregen had built a reputation as co-founder and guitarist of his main band BACKYARD BABIES.
Next to THE HIVES and THE BACKYARD BABIES, THE HELLACOPTERS are considered one of the most important and influential Swedish rock bands of the 1990s and 2000s – they achieved two Gold certifications, won the Swedish Grammy and a Kerrang! Award, have amassed 100 million streams to date and have supported and toured with the likes of THE ROLLING STONES, KISS, BLACK SABBATH, ZZ TOP and the FOO FIGHTERS. They have released seven albums, ranging from fuzzed-out & supercharged garage punk on "Supers**tty To The Max!" (1996) & "Payin' The Dues" (1997) to perfectly crafted & soulful high-energy rock'n'roll with a strong vintage vibe on the following albums, "Grande Rock" (1999), "High Visibility" (2000), "By the Grace of God" (2002) and "Rock & Roll Is Dead" (2005). A compilation of cover songs called "Head Off" was released in 2008 and marked the band's last album before ultimately dissolving. In addition THE HELLACOPTERS have released almost four dozen singles, splits and EPs until this day, most of which received the limited 7inch or 10inch vinyl treament, making them a vinyl collector's dream … or worst nightmare.
THE HELLACOPTERS reunited in 2016 to play a few shows for the 20th anniversary of their debut album, "Supers**tty To The Max!", and have proven an unstoppable force ever since, performing at Sweden Rock Festival, Psycho Las Vegas, Download, Hellfest, Roskilde, Ilosaarirock, among others. In October 2021 they announced that they had signed a deal with Nuclear Blast Records and a new album entiltled "Eyes of Oblivion" was announced for April 1st, 2022.
Read our review here.