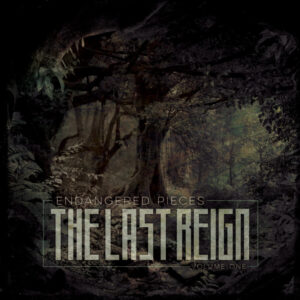 First thing that attracted me was the corrosive vocals. Do you the kind that burns like acid? Yeah, this one right. Then, listening a little more of "Endangered Pieces" – just loved the pun – the guitars really made up my mind. The Last Reign deliver the fan a blood thirsty combination of Old School Heavy Metal with Thrash Metal and Death Metal. More corrosive than this is really impossible. The band intertwine Old School Heavy Metal twin guitars with the dissonances of Death Metal and the addictive guitar riffs of Thrash Metal. Moreover, a band that is able to create the finest melodies as in "Careless Whisper" – believe it or not it's a cover version of Wham!, so sorry for writing this name here. I would never believe that I would love a version of this song.
"Endangered Pieces" is an uncanny album. I'll elaborate. Eight out of its thirteen tracks are covers. But not the usual covers of Metal bands as it's the right thing to do – Hey, wait! Did I say right? No, sir. The Last Reign chose carefully songs from bands that besides not belonging to the Metal music world they are unknown – at least for me. Excepting the song I've told before from the band I refuse to say the name again. Yeah, I know it. Anyone from the 1980's one way or the other was forced to know it. Ah, "The Power of Love" I know as well. Another song from the 1980's that anyone had to know. It's really funny to see a pop song covered by a Melodic Death Metal band. If I hadn't read the song tittle I would never get that this is "The Power of Love" from Huey Lewis and the News. Well, the chorus gives a wee chance.
The other five tracks are originals from the The Last Reign. The album is opened by the powerful "Sands of Fate" whose corrosive vocals attracted me at first. Great song. However, then comes a joke, if I may call it this way. "Final Decree (Insert Coin)" sounds as the soundtrack of a 1990's video game, if I may say this. Well, I'd better say that the great "Endangered Pieces" is over here.
The Last Reign "Endangered Pieces" will be released on February 24th.
Track Listing:
Sands of Fate (New Original Song)
Good 4 U – (OLIVIA RODRIGO Cover)
Ravenous – (ARCH ENEMY Cover)
Separate Ways – (JOURNEY Cover)
Never – (MOVING PICTURES Cover)
Careless Whisper – (WHAM! Cover)
Birds Fly (Whisper to a Scream) – (THE ICICLE WORKS Cover)
The Power of Love – (HUEY LEWIS AND THE NEWS Cover)
It's Dangerous to go Alone – (VIDEO GAME MEDLEY Cover)
Final Decree (Insert Coin)
Renovatio (Press Start)
Sacrilege (Game Over)
The Gray Agenda (Continue?)
Watch "Good 4 U – (OLIVIA RODRIGO Cover)" official Play Through: