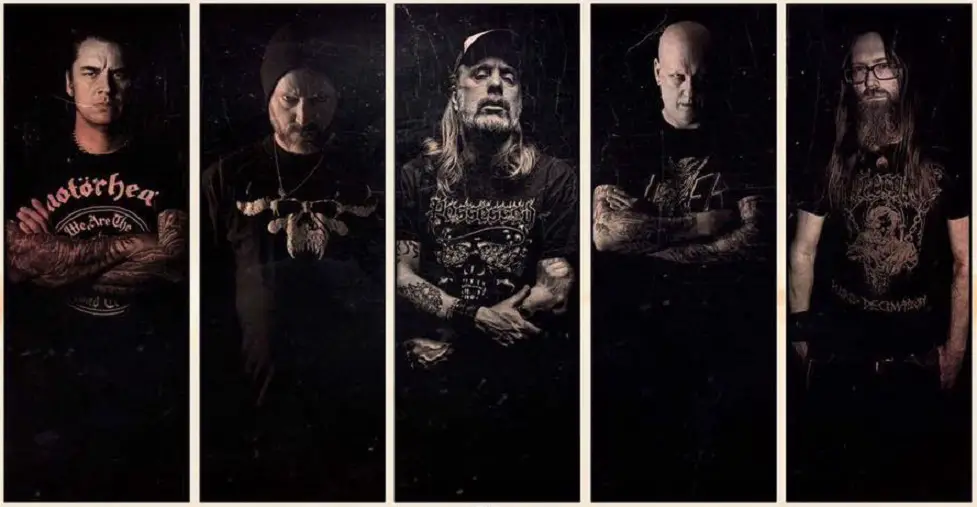 While Swedish Death Metallers THE LURKING FEAR are completing the recordings for their debut album and also performing their debut live-shows this weekend in Sweden, timing is perfect to launch a first digital single and also reveal some details about the upcoming album.
You can check out the single "Winged Death (EP Version)" below.
You can also obtain "Winged Death" via other online outlets:
iTunes, Spotify, Or here.
The band has checked in with the following comment about the track:
"So, here is the first full blast of pure death metal filth for you maniacs, taken from the 3-track self-titled debut 7" EP! "Winged Death" is our little death metal epos about hungry Lovecraftian insects devouring you from the inside out. It has all the different elements of The Lurking Fear, the fast, pounding death metal mayhem, the slow, creepy horror/doom parts and howling screams of terror. Straight out of our coffin!"
And the status update on the debut album recordings currently taking place at Welfare Sounds (Bombus, RAM, Bombs Of Hades, etc.) in Gothenburg, Sweden reads as follows:
"We are in the middle of wrapping everything up in the studio and have just started the mixing process for the 11 tracks we recorded. It's sounding nasty and raw, just the way we want it! The record is called "Out Of The Voiceless Grave" and that title sums up what the album and actually band are all about. Our idea is that you get a glimpse of the horrors spewing out from our metal grave of interstellar death. The album is basically our Vortex spawn, a beast with eleven heads, all ready to devour you! We are very pleased with how it sounds right now, as the guys at Welfare Sounds understood our concept immediately and have managed to capture some pure death metal filth on tape!"
"Out Of The Voiceless Grave" will be released via Century Media Records worldwide on August 11th, 2017.
The 7" EP, which features the songs "Tongued In Foul Flames", "The Infernal Dread" and "Winged Death", can pre-ordered here.
Stay tuned for more news on THE LURKING FEAR and "Out Of The Voiceless Grave" coming soon…