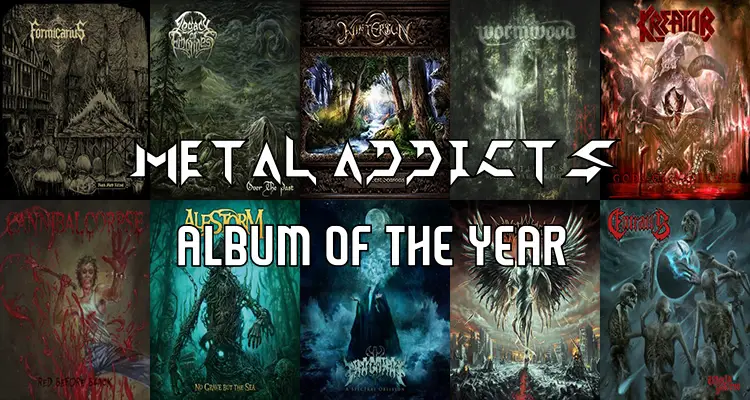 As is seemingly the tradition amongst the metal websites of the world, the time has come for us here at Metal Addicts to present to you our Top 10 Albums of the Year. But like all of our Top end year lists, they're not our personal rankings. We allowed you the fans to vote, and you answered!
Once again: we understand we missed plenty of good albums from great bands, but these ten were coted amongst our favorites and you viewers responded. We understand that bands like Suffocation and Dying Fetus have put out stupendous records, but we can only hear so much.
But without delay (and kudos to you if you didn't just skip to the list), go below to view the Metal Addicts' Top 10 Albums of 2017! Listen, experience, and, of course, judge the f*ck out of what we've got for you to behold!
#1 Wintersun – The Forest Seasons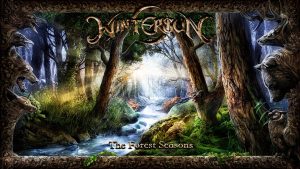 Wintersun has always been one of those bands that have always been regarded as a perfect mix of metal and nature. Despite catching some flak for crowdfunding "The Forest Seasons", the album is no less than f*cking immaculate. One song for each season, Wintersun nails this album from start to finish to create a unique magical experience the likes of which metal is rarely greeted with. Should you want an album that's as hauntingly beautiful as it is a well-crafted piece of metal, then "The Forest Seasons" is exactly what you need.
#2 Fragarak – A Spectral Oblivion
 I've been saying it for years and I'll say it again – India has been one of the best new places for metal, and Fragarak is a prime example of what the country can produce. With a stunning array of death metal, "A Spectral Oblivion" also boasts an absolute slew of progressive elements and atmospheric excellence that propels this sophomore effort forward way ahead of the competition. On top of that, Fragarak delivers glorious melodies, a great understanding of death metal, and a pristine sense of musicianship that very few bands can achieve.
#3 Wormwood – Ghostlands – Wounds From a Bleeding Earth
 There is no shortage of Swedish metal by any means whatsoever, but it's always a welcome thing if you ask me. Wormwood was a band that I never could've seen coming, and their debut full-length of "Ghostlands – Wounds From a Bleeding Earth" is black metal excellence to the fullest. Not staying to any one specific style of black metal at all times, Wormwood excels at being melodic, being atmospheric, infusing their crafted with folk elements, and overall being a band that always knows how to deliver., Not many albums can have such diversity and pull it off well, but Wormwood does it like it's f*cking nothing.
#4 Legacy of Emptiness – Over the Past
 As with the previous album, black metal has always been rip[e for experimentation and bringing different elements together for one intense experience. Legacy of Emptiness is far from the first band to put symphonies into their brand of black metal, but damn if they don't do it amazingly well! "Over the Past" is a hauntingly mesmerizing piece that greatly captures what it means to be an album that brings together two completely different styles into one cohesive experience. Legacy of Emptiness couldn't have done a better job here, and it really shows.
 Many people tend to forget that there are some truly immaculate bands of thrash metal outside the Big Four, and those people are missing out because that means they clearly haven't heard Kreator. These guys have been going for quite some time, and they're catalog of thrash is only getting more exquisite, and "Gods of Violence" is one of their most exceptional pieces to date. This band has always brought terrific thrash metal over the years, and this is no different. If nothing else, "Gods of Violence" is proof that Kreator is truly one of the best thrash acts to ever grace our ears.
 Old school death metal is the sort of thing that can be real hit or miss depending on who is attempting it. When it comes to Entrails, it's almost guaranteed to be a hit right on the f*cking bulls eye. Their brand of death metal is one that never disappoints, but "World Inferno" is an album that knocks out just about all the f*cking competition is one swift punch to the nads. Entrails sews in melodies and glorious hooks to allow "World Inferno" to grow as not only an album but one long continuous sermon of undeath and decay in ways that we're rarely treated to nowadays. "World Inferno" is something that makes 2017 feel like the 80s again, and it couldn't have been pulled off any more deliciously.
 Exactly like how Kreator is a very well known name of thrash yet still always seems to be oddly unrepresented, the same thing goes for Immolation with death metal. This band has been a force to deal with ever since the 90s, and with "Atonement" they don't show any signs of slowing down! A massive wallop that you'll be feelings for months on end, the whole of this record is a pure entrancing take on death metal that really delivers from the instance sh*t gets real.there's a reason why Immolation has been going for this long, and it's because of phenomenal performances like "Atonement" that shows what this band is capable of.
#8 Alestorm – No Grave But the Sea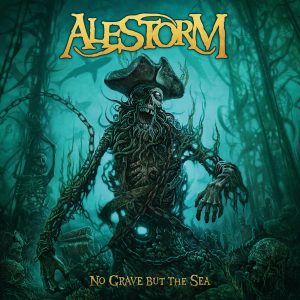 The seas have never been more raging and the beer has never stopped flowing since the dropping of "No Grave But the Sea"! Alestorm has become a real staple of modern metal as their unique take has yet to fade or lose its luster even after nine years and five full-length albums. Yet, even after so much, Alestorm has put out arguably their best record yet with "No Grave But the Sea" as this opus brings together everything there is to love about Alestorm along with introducing new things to spice it up even further! And it all works out magnificently well!
#9 Cannibal Corpse – Red Before Black
 Does this band really need any introduction? Cannibal Corpse has been an undeniable force for all of metal ever since their first album, and they've yet to slow down. While many have voiced their opinions about the cover art, few can say that "Red Before Black" isn't an excellent addition to the catalog that Cannibal Corpse has created. This album brings together everything that has made Cannibal Corpse a household name for metal alongside making this their most technical album to date, and just that alone helps this record feel apart from the rest even if only slightly. There's no denying the power behind "Red Before Black" as it pummels you into the concrete with each passing explosion of blood and guts.
#10 Formicarius – Black Mass Ritual
 The glory of the underground is something that will never cease to amaze me simply because of how vast it is and the sheer potential it can hold. Formicarius is a terrific example of a band that takes the underground to some of its best places, and their latest effort is a perfect example.  "Black Mass Ritual" stands a grand opus of unholiness manifest into a splendid album that never disappoints. A vicious array of black metal that doesn't know when to quit, Formicarius is the very definition of a surprise that struck the perfect strike.