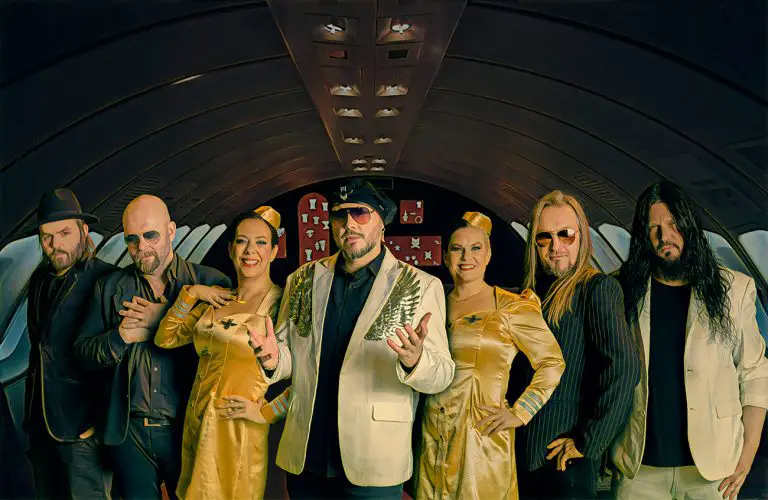 THE NIGHT FLIGHT ORCHESTRA is back! The band that formed as an idea of friends from several well known rock/metal bands (SOILWORK, ARCH ENEMY, MEAN STREAK) back almost a decade ago and has been dropping jaws ever since. With 5 albums already under their belt, 2 nominations for the Swedish Grammies, countless live shows and praises from fans and media alike, TNFO have steadily upped their game when it comes to paying tribute to a decade that influences all sorts of people and even industries to this day – the 80s. With hits like "Domino," "Lovers in the Rain," "West Ruth Ave," "Divinyls" or "This Time," the band manages to maintain a variety of vibes and emotions within every album. From hard rockers, poppy digressions to progressive epics, disco-esque songs and almost cheesy yet loveable ballads.
Enter 2020, TNFO had just released their recent record, "Aeromantic," and kicked off their European tour in support of it, when the Covid-19 pandemic hit. Björn Strid, the AOR dictator helming this exceptional collective called NFO, recalls "We made it one week into the tour after some absolutely amazing shows and then it all went south and we had to go home. Just about everyone on the tour got sick when they came home, with varied conditions."
The band didn't step back and accept the situation but decided to do what they do best instead: "It was pretty clear after some months into the Covid madness, that it was here to stay and that we weren't gonna be able to tour for quite some time. So we made the best out of it. The remedy was simply to hit the studio again as soon as everybody was well again. It ended up being an incredibly creative 1,5 years and so many amazing songs came out of it."
 That being said, the second part of the "Aeromantic" saga really captures what this band is all about: being in motion and romanticizing traveling, sometimes even with a broken heart – accompanied by the good things in life. Namely with songs like "White Jeans," yet another jaw dropping classic rock gem about hot young love, cramped with nostalgia, or "Change," which encompasses all the vibes you know from your favorite decade: Urgency, emotion, warmth and excitement. But also groovy danceable songs like "Chardonnay Nights," a groovy, dreamy, yet uplifting homage to parties and hot love, or "Burn For Me," a true feel good anthem for the summer – driving people to dance in the streets, all worries aside, to a brighter future.
On the other hand there are tracks like the almost progressive "Amber Through A Window." A little throwback (at least titular) to the NFO's epic 2017 album "Amber Galactic": "Amber is with us wherever we go and I think she'll keep coming back. She's our mascot of escapism. The song was very interesting to compose. It takes you on quite a journey with key changes and goes from minor to major when you least expect it and throws you between different set of emotions. At the same time it feels pretty direct and operates like a mini epos. Really happy with how it turned out", cites Strid.
With new keyboardist John Lönnmayr in their ranks, the NFO has also added fresh talent to their unique sound as Strid puts it: "John is definitely a keyboard and music wiz. He's been playing a lot of different music styles, from fusion jazz to straight up commercial pop. He has a brilliant ear and have brought so much fresh blood to the band, both on a personal side but also musical side. John is a childhood friend of Sebastian so it was Sebastian who recommended him. We always trust Sebastian's judgement."
 Besides all this, the band has also stepped up their game when it comes to music videos for their timeless anthems. "White Jeans" for instance features Swedish TV personality Fredrik Lexfors and is a sweet little homage to the LGBTQIA+ community. "Fredrik is a good friend of mine and has loads of experience in the musical/theatre world and is super creative. He created this character called "Kantorn" (The Cantor) some years ago and became a hit on YouTube. He has a very twisted and unique way of singing and acting, which is very funny. He was a part of Sweden's Got Talent TV Show and went really far and became a crowd favorite. Fredrik has a lot of friends in the LGBTQIA+ community and I also have quite a few. We saw it as a joyful tribute and we've only gotten really good response. It's of course also humorous but has a very nice balance and a very positive message."
 The bold and jovial video for "Burn For Me" on the other hand maybe among the biggest and best productions, the NFO ever recorded for the depths of the internet: "I've had this idea to film a "Dancing in the Streets" video, where curious people come out of the woodworks and join the party in the streets. It's a very classic 80's scenario and very common in videos back then. Sort of the video to IRENE CARA's "Fame". You don't see it very often these days. We felt that it was needed and after "Burn For Me" was done I immediately envisoned it being the perfect "post corona dancing celebration in the streets-song"."
Those two videos are by far not everything the band will have to offer visually, but we won't tell any more just for now. To be continued…
With all that new greatness up their sleeves, NFO are ready to take the world by storm – again! Even though coming up with a setlist for their scheduled tour starting in September may prove to become problematic according to the AOR Dictator: "Making a setlist might end up being a nightmare haha… I would be up for doing only songs off 'Aeromantic I' and 'Aeromantic II' since that's really where we're at right now, but I think most of our the Midnight Flyers would like to hear some old stuff, too. Maybe we could get away with it as long as we play 'West Ruth Ave' as the ending song and create the good old conga train?"
Read our review here.