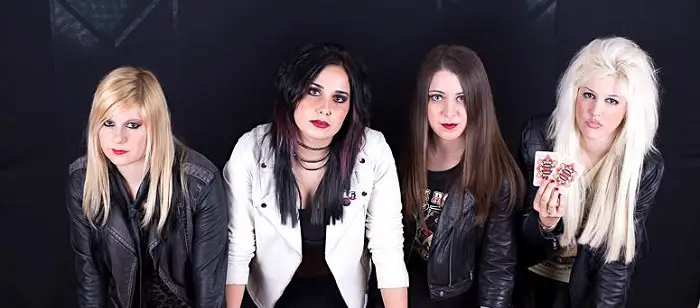 "My Turn To Deal", the first EP by the Italian hard 'n' heavy all-female band THE PHOENIX, will be released on February 2nd, 2016 under American label Demon Doll Records; this work was recorded at PriStudio by Roberto Priori.
The track list is as follows:
1. My Turn To Deal
2. Dangerous Girl
3. You Can't Stop The Rock 'N' Roll
4. Party Hard
The official Release Party is scheduled for January 30th at Red Devil Motors Pub (Rimini, Italy) with Vain Vipers as opening band.
Here are THE PHOENIX next gigs:
02/12 San Marino @ Birraio
03/05 Pinarella di Cervia (Ravenna, Italy) @ Rock Planet Club
04/29 Cremona (Italy) @ Midian
THE PHOENIX is:
Lena McFrison – Lead Guitar / Vocals
Alice Schecter – Rhythm Guitar / Vocals
Luna RocketQueen – Bass / Vocals
Giuli McMousse – Drums