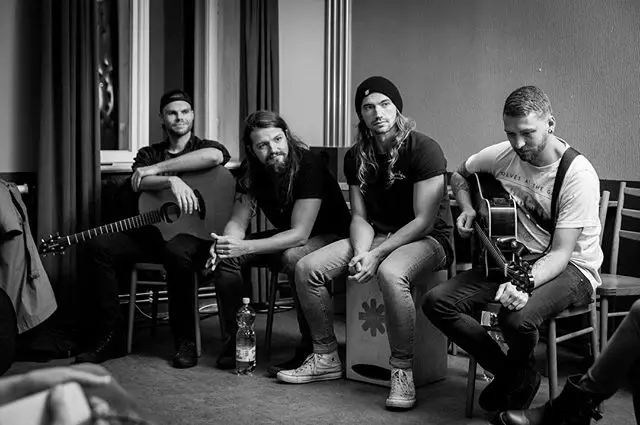 The Protest are here to break you out of the doldrums with their new video, and much like the plot of the clip, it's hard to deny the energy with which these Indiana rockers play. Check out the band's humorous take on performing in front of a new crowd in the fist-pumping video for "Noise Revolution."
The band shot the video with director Adam Shewmaker, calling upon Joel Burris for the karaoke-style graphics and setting up shop at New Castle, Indiana's Town Tavern for the video shoot.
Singer Josh Bramlett says,
"We came up with the karaoke graphics idea in a moment of inspiration at a coffee shop, while on the road during our last tour. We have so many serious videos – we wanted to make one that shows our fun side … because rock n' roll IS fun, and we have a blast playing it!"
He adds,
"We had a hard time finding a venue that would allow us to take the time to shoot this, so the video is comprised of fans that we pulled together in less than a week. Some even drove through the night from a festival we played the day before just to be there! We were humbled and blessed by the support, especially with such short notice."
Bramlett chalks up the video to showcasing the power of music.
"It has the ability to change someone's heart, reminding us to be mindful of what message we are spreading with our songs: The Protest is about hope and encouragement," says the singer. "Unlike our last video that was shot in freezing cold, this one was smoking hot during the shoot … We were sweating so hard, and the fans were as well. We hope you like it!"
Bramlett, guitarists Adam Sadler and TJ Colwell and drummer Jarob Bramlett, are promoting their new album "Legacy" on Rockfest Records/Sony. "Noise Revolution" is the follow-up to first single "What Else You Got," which peaked @ #26 on the BDS Rock Indicator chart, and #10 on the Billboard Christian Rock Chart. The band has played 80 dates so far in 2018, and plans to keep touring into 2019.  You can pick up the album via iTunes or stream it through Spotify and stay up to date with the band's touring and activities via their website, Facebook, Instagram and Twitter accounts.
Watch "Noise Revolution" official video here: