Ask any of your friends that are in rock/Metal bands, or who simply love music, to name a bass they appreciate. Certainly the name Rickenbacker will pop up as number one. we're talking about a bass that is a genuine legend among musicians due to its personal and unique sound. Everybody who's yet a beginner recognizes its sound. "Ah, it's a Rickenbacker," "This dude is playing a Rickenbacker," "Hum, it sounds like a Rickenbacker." Come on, by show of hands who's never?
The Rickenbacker 4001 (the babe's official name) was manufactured by Rickenbacker as a two-pickup "deluxe" version of their first production bass, the single-pickup model 4000. This famed design was manufactured between 1961 and 1981, when it was replaced by an updated version dubbed the Rickenbacker 4003. Variant models of the 4001 include the 4001S, 4001LH, 1999 (European model), 4001V63 (reissue), 4001CS (a limited edition series based on Chris Squire's 1965 British model RM1999) and the 4001C64S C Series, a recreation of Paul McCartney's left-handed 4001S with a reversed headstock. There is also a Lemmy Kilmister signature version (4004LK) of the instrument.
But why is this bass so lovable?
Some say that your meal begins by the eyes. True. The Rickenbacker striking design, mostly due to its headstock, does magic, but it's not only. It's the sound that captures the heart and souls of bassists and music fans. Its sustain, that seems to last forever as many say, is one of the most captive features. In my humble opinion, the reason we get in love with it is the warmth and the full-bodied sound. It dishes out plenty of treble filled punch and solid thumping bottom end. If a bass sound can be elegant, the Rickenbacker is the one.
Famous bassists who use it
The Rickenbacker bass is a love/hate instrument. There aren't too many bassists that use it as the Fenders, but this list is great and they are faithful to it:
Sir Paul McCartney – 1964 Rickenbacker 4001S – LH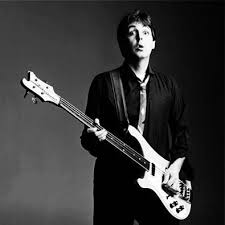 Though he is mostly known by his early The Beatles' Hoffner, Sir Paul McCartney had a change of hearts to the Rickenbackers. When Hall, the head of Rickenbacker, gave Harrison a new 360-12 model in February '64, F.C. he also brought along a new 4001 bass to show McCartney.  McCartney liked it, but as Hall had brought  a right-handed model, he had to wait more than a year for a proper left-handed one. It served as a backup for live dates in late '65, and for the '66 tours, but in terms of recording, by the time the band made "Paperback Writer" and "Rain" in the spring of '66, the Rickenbacker had become McCartney's bass of choice.
Geezer Butler – 1973 Rickenbaker 4001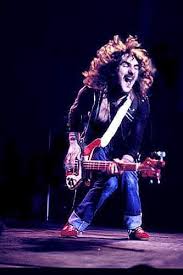 Though he's currently endorsed by Lankland basses, Butler had his time with the Rickenbaker. History goes that his Rickenbacker was a present from Glenn Hughes who used it to record Deep Purple's "Burn." Hughes says that this is one of the things he most regrets. Fortunate Butler keeps the babe safe at his home.
Glenn Hughes – 1973 Rickenbaker 4001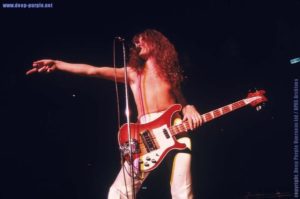 Glenn Hughes used this late 1973 (evidenced by the photo being taken in early 1974, but the bass not having the 'toaster' pickup that came on most 1973 basses) Ricky 4001, at Ritchie Blackmore's urging, to record "Burn" album and the first few dates of the tour. He then gave it to Black Sabbath's Geezer Butler. He also used it during the tour and recording of "Made in Europe" where we can appreciate all the elegance its sound.
Chris Squier – 1964 Rickenbacker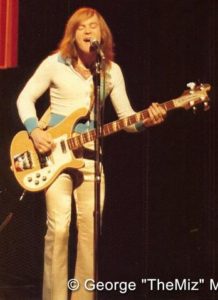 Let the man speaks on behalf of it:
"I had left school and took a temporary job while I tried to figure out what to do with my life – this was before I became a full-time musician, obviously. I was working in Boosey & Hawkes music store in London, and this particular place happened to be the importers for Rickenbacker guitars into England. So I started seeing these basses coming in. I think the first three Rickenbacker basses were imported around 1964. Pete Quaife, the bassist for The Kinks, bought one. Then John Entwistle from The Who bought one. As for the third one, I asked the manager of the store if I could get an employee discount. He said I could, and so I picked up that one. [laughs] I went on to live with that guitar and perfect my style, really."
Chris Squier was honored with a signature line.
Lemmy Kilmister – 4001 Series
But the most faithful Rickenbacker user was for sure Motörhead's Lemmy Kilmister who used it for all his splendid career. Not only the most faithful, but the one who had the guts to play it with picks and lots of distortion. Lemmy said once that the secret of his unique playing was that he played his Rickenbacker as a guitar. He meant that he used to strike more chords than the solely one as usual.
As early as his time with Hawkwind, Lemmy can be seen with a 4001. Before being honored with his own signature series, Lemmy used several Rickenbacker 4000 series basses. The first one is supposed to have been adorned with a sticker of a Nazi Reichsadler on the pickguard, but this an educated guess due to Lemmy's interest in Nazi memorabilia. Later photos and videos show Lemmy with another, altogether more iconic 4001 with some stars and the words "Born to lose, out to lunch".
Tim Butcher, Lemmy's bass tech, claims to having added a fret to Lemmy's 4004LK signature.
Geddy Lee – 4001 Series, Doubleneck 4080/12, 3001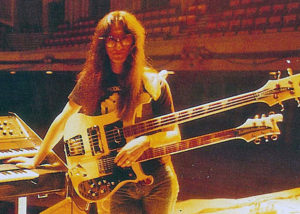 He is not only a Rickenbacker man, but the Doubleneck Rickenbacker man. Though, Geddy can more identified with a black 1972 Fender Jazz Bass, and the man was honored with Signature Jazz Bass in 1998, he also owns a black Rickenbacker 4001, which he used for live and studio work from 1975 to 1984; the Doubleneck 4080/12 (Double-neck, 4001 bass & 12-string guitar with humbuckers); and a Rickenbacker 3001.
Cliff Burton – 4001 Series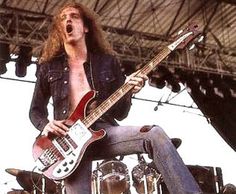 Another Rickenbacker hero was Metallica's Cliff Burton. Cliff was so Rickenbacker addicted that the bassists he cited as his major influences are all also Rickenbacker aficionados: Rush's Geddy Lee, Black Sabbath's Geezer Butler, Stanley Clarke who can play anything, Lemmy Kilmister and Thin Lizzy's Phil Lynnott.
He used this Rickenbacker bass in the recordings of "Kill 'em all" and on parts of "Ride the lightning."
His iconic bass now belongs to a museum – The Rock and Roll Hall of Fame Museum: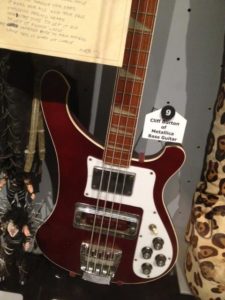 Phil Lynnott – 1980 4003 Series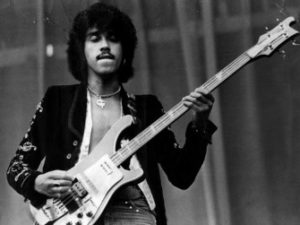 Thin Lizzy's Phil Lynnot used a lot of basses throughout his career, but this 1980 4003 Series was remarkable. He used it in the early days of Thin Lizzy.
Watch the video here: