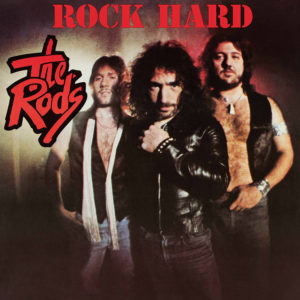 Some bands are more fortunate than others.
Some bands don't get the attention they deserve in ther right time, but sometimes they it after it.
Some bands are more linked to their time than others and they get to be a reflection of it. Some of them go beyond it.
Some of them want to use you. Some of them wnat to be used by you. Ops! That's not supposed to be here…
All of them somes fit perfectly to this new re-release of a classic album that High Roller Records is delivering to us. The Rods are a classic band of the 1980s when the boundaries of Metal music and Rock werent that established. Some bands would just flirt with all the references Rock, Hard Rock, and early Metal provided them at the time. That's why the fan, if familiar to that sonancy, will notice many touches of some really old, but gold stuff. Old is just a way of putting it. "Rock Hard" shows features of 1970s Classic Hard Rock, early Metal and NWOBHM. It's an album that makes the fan feel the heat of the 1980s if you know what I'm saying. Opening track "Sit Down Honey" is a cover of Elf – the band guitarist Feinstein shared with the Metal god Ronnie James Dio. "Sit Down Honey" is a perfect reflection of the Hard Rock done down in the 1970s and could have been recorded by bands as Kiss or even Suzie Quatro just to mention some examples – has anyone mentioned Bad Company? It's the sonancy that the fan will feel the most in here. If my dear fan doesn't pay enough attention the main guitar riff "Music Man" may sound like Rainbow's "Man on the Silver Mountain," the final and ultimate Dio's classic with the band. A song that has that slugush and slothful cadence to remind that maybe all the musicians are whiskey soaked and playing for pleasure. Just saying. For the record, I seriously doubt if instrumental following track "In Your Panties" would be recorded these days due to its tittle, but musicwise it sounds as a perfect Van Halen piece. Feinstein here shows everything he's got. I just guess he wanted some more…
To me "Rock Hard" has that cozy familiar sonancy. All the songs have that so familiar sonancy. There's some Bad Company in it that I can't help it saying. I guess I would recommend this album to anyone who wishes to have a good tip of how heavy music was done in the 1980s. Of course, I don't mean that "Rock Hard" is a bunchful of clichès. That's not my point, really. It's just a good example of the bad, the ugly and the dirty music done in the early 1980s. A Motörhead without all the speed and distortion – hum, I guess this comparison was in someway done. By the way, some features in here as the riff and mooding in "Get Ready to Rock'n'Roll" were largely used for many bands. That's what I mean by familiar. And cozy.
The Rods "Rock Hard" will be released on August 20th via High Roller Records.
Track Listing:
Sit Down Honey (Elf cover)
Music Man
In Your Panties
Power Lover
Roll With the Night
Hungry for Some Love
Get Ready to Rock & Roll
Crank It Up
Rock Hard
Gettin' Higher
You Better Run (The Young Rascals cover)
Woman
Watch