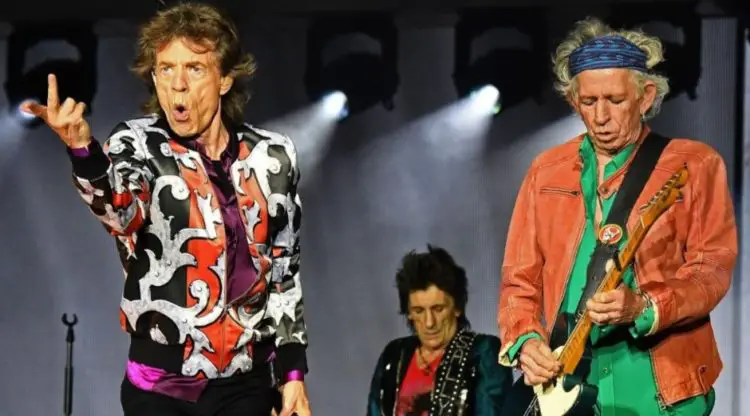 THE ROLLING STONES have announced 2020 North American dates.
Tour dates can be seen below, while tickets can be acquired at this location.
May 8 – San Diego, Calif. @ SDCCU Stadium
May 12 – Vancouver, British Columbia @ BC Place
May 16 – Minneapolis, Minn. @ U.S. Bank Stadium
May 20th – Nashville, Tenn. @ Nissan Stadium
May 24th – Austin, Texas @ Circuit of The Americas
May 29th – Dallas, Texas @ Cotton Bowl Stadium
June 6th – Buffalo, N.Y. @ New Era Field
June 10th – Detroit, Mich. @ Ford Field
June 14th – Louisville, Ky. @ Cardinal Stadium
June 19th – Cleveland, Ohio @ FirstEnergy Stadium
June 23th – Pittsburgh, Pa. @ Heinz Field
June 27 – St. Louis, Mo. @ The Dome at America's Center
July 1st – Charlotte, N.C. @ Bank of America Stadium
July 5th – Tampa, Fla. @ Raymond James Stadium
July 9th – Atlanta, Ga. @ Mercedes-Benz Stadium
While speaking to Simon Boyle's "Bizarre" column of the British newspaper The Sun, THE ROLLING STONES guitarist Ronnie Wood has revealed that the group has been working on unpublished material for some time and a new album will be released. In addition, the band will go on a world tour just four months after finishing the "No Filter" tour.
"The new album is like a puzzle, we still have to put the missing pieces together. We hope to release it in 2020 and then continue our world tour," Wood said.
Last Year, THE ROLLING STONES were forced to postpone the North American leg of their "No Filter" tour, which ran from April 20th to July 29th, due to Mick Jagger's health problems.
Mick Jagger underwent surgery to replace a valve in his heart.
THE ROLLING STONES' latest album, Blue & Lonesome, was released on 2 December 2016. t is the band's first album to feature only cover songs, and their first studio release since 2005's A Bigger Bang, with its eleven-year gap being the longest between two albums from the band.