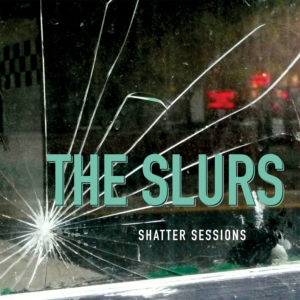 The word anachronistic fits perfectly to the music The Slurs make. Anachronistic means something that exists in certain period of time, but do belong to other. The fish coelacanthus is the perfect example. As if there are no more aesthetically rock bands – pay attention, I don't mean Metal because it has been apart from rock aesthestic a long ago. As a matter of fact, Metal has became the rock aesthetic itself, if you know what I mean. A few time ago it The Slurs would be called retro rock, today just rock because all rock bands play a kind of anachronistic music. Sign of the times.
In fact, "Shatter Sessions" would be the great release around 1978 or 1979 due to its punk grip with lots of rock'n'roll touches. A great example is Wendy O. Willians' Plasmatics. But it's not that simple, CJ Olson's voice is much more near Californian melodic hardcore bands as Social Distortion, Bad Religion, and Rise Against just to name a few. Melodic hardcore bands rose around the early 1980s and really got known by the 1990s. That's why anachronistic.
In general, if you like energetic rock bands with a punk grip mixed with the good rock'n'rock licks using guitar's thirds and fifths, you'll be welcome. The Slurs are a very octaned band and "Shatter Sessions" is fun throughout the ten tracks. There are no ballads or slow tempo songs in "Shatter Sessions," what makes it very linear and a powerhouse.
From where I'm standing, I praise bands like this. It's great to see that bands as The Slurs still have room in the musical scene.
The Slurs "Shatter Sessions" will be self-released on February 08th.
Track Listing:
Mercy
Do What You Want
Trust No One
Fat Machine
Defenseless
Blood and Alcohol
Info Age
Slash Me
I Wanna Destroy You
Something for Pain