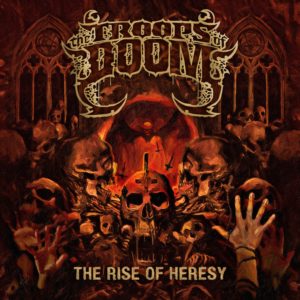 Behold fans of early Sepultura! The gods of Metal are watching your whinings and sent you a relief. Now you can stop complaining that Sepultura were much better in the good old days. Here you have The Troops of Doom with "The Rise of Heresy" the best approach possible to what would be Sepultura if they had continued the same after "Morbid Visions" including their original guitarist Jairo Tormentor.
Ok, so let's go with "The Rise of Heresy," shall we?
First of all, I have to say that I took a look at Sepultura's first efforts just a few time ago. I wasn't really a fan of the band's albums before "Arise," which for the me is the band's masterpiece. And yeah, I'm a contemporary of the band's first releases as "Bestial Devastion" and "Morbid Visions." I really saw the band be born and get all the way to success –  which I think is deserved. Back then, I wasn't a fan of Extreme Metal music. That pretty much explains the fact. To my proud teens ears –  all teens are proud of their discoveries, aren't they? – Sepultura were one more poorly played and performed band of the many that were coming out in the  mid 1980s. I guess guitarist Andreas Kisser was the responsible for that upgrade. Okay, but that history.
"The Rise of Heresy" sounds exactly – except for the good production and the better played tracks – as Sepultura sounded thirty-five years ago – thirty-five, wow, time goes so fast, my child of the night. Jairo Tormentor really knew how to capt the spirit of the time. Of course, having been there helped a lot, don't you agree? Only the intro that is a little bit – a little? – out of the scene, but the rest of the six tracks are amazingly near that sonancy. Ah, the EP includes two Sepultura covers; "Bestial Devastation" and "Troops of Doom." I must admit that the songs sound much better now thirty-five years after. Or is it me? Or both? Maybe both.
Not to say that the EP is exactly the same as if, first track "Whispering Dead Words" has some guitar strummings that very unlikely would be there in the good days. But the feeling is just the same. "Between the Devil and the Deep Blue Sea" and "The Confessional" feel more like home to early Sepultura fans especially the drumming.
Jairo Tormentor promised that a full-length is on the way. Let's wait. "The Rise of Heresy" is really a good appetizer for what is to come.
The Troops of Doom "The Rise of Heresy" will be released on October 09th via Blood Blast Distribution.
Track Listing:
Whispering Dead Words
Between the Devil and the Deep Blue Sea
The Confessional
The Rise of Heresy
Bestial Devastation (Sepultura Cover)
Troops of Doom (Sepultura Cover)
Watch "Between the Devil and the Deep Blue Sea" official lyric video here:
972