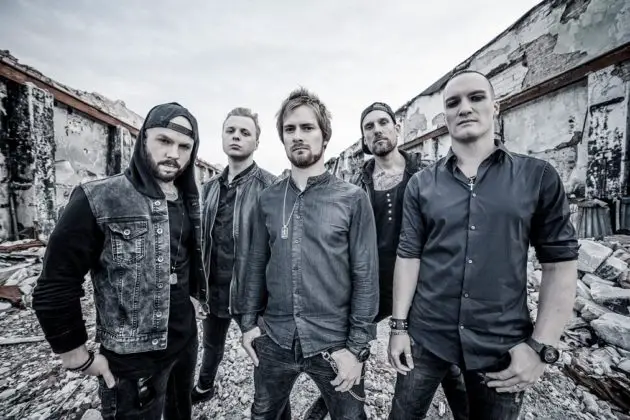 THE UNGUIDED are celebrating the worldwide and exclusive music video premiere of the second track off of their upcoming album "And The Battle Royale"!
Those Swedes incubate a heavyweight of Melodic Death Metal which would freak out all Metalcore forerunners in their greatest era. With a sense for overwhelming hooks and sweet sentiments, their creamy guitars celebrate themselves! The new single and music video for "The Heartbleed Bug" is another amazing example! Check out the new music video below.
The band commented on "The Heartbleed Bug" as follows:
"After the overwhelming good reactions we got from; "Legendary", which is a song perhaps leaning more towards the more classic The Unguided sound, we are super excited to see what the fans think about the main single; "The Heartbleed Bug"! This tune is truly a roller coaster ride, and indeed shows new sides of the band and the joint songwriting versatility of the current line-up. For the video we wanted to invite the fans into our world, so we brought a filmmaker to most of our shows the past months to capture both events off and on stage with a mission to compile it into this music video after the summer was over. This is the result! This is purely us, we welcome you to the family and keep in mind everyone have that one weakness, your closely guarded exploit, your heartbleed bug…"
"And The Battle Royale" will be released November 10th 2017.
"And The Battle Royale" Track Listing:
1. Death's Sting
2. The Heartbleed Bug
3. Legendary
4. Dark Metamorphosis
5. A Link to the Past
6. Anchor Stone (of the World)
7. Manipulate Fear
8. Force of Nature
9. King's Fall
10. Nighttaker (Bonus Track)
11. Daybreaker (Bonus Track)
12. Nighttaker (Live) (Bonus Track)
The full DVD track listing reads as follows:
1. Becoming Death (Intro) (Live)
2. Enraged (Live)
3. King of Clubs (Live)
4. Blodbad (Live)
5. Heartseeker (Live)
6. Green Eyed Demon (Feat. Christoffer Andersson) (Live)
7. Unguided Entity (Live)
8. Betrayer of the Code (Feat. John Bengtsson) (Live)
9. Operation: E.A.E. (Live)
10. Eye of the Thylacine (Live)
11. Inherit the Earth (Live)
12. The Worst Day (Revisited) (Live)
13. Nighttaker (Live)
14. Phoenix Down (Live)
15. Hate (and Other Triumphs) (Live)
"And The Battle Royale " will be available as 6-page Digipak CD + DVD, as well as digital download!
Meet THE UNGUIDED live:
13.10.17 AT – Wien / Viper Room
14.10.17 AT – Vorchdorf / Metalnight Outbreak 5
Support of SOILWORK:
10.11.17 SE – Malmö / KB
11.11.17 SE – Gothenburg / Brewhouse
12.11.17 NO – Oslo / John Dee
13.11.17 SE – Linköping / Konsert & Kongress
14.11.17 SE – Uppsala / Katalin