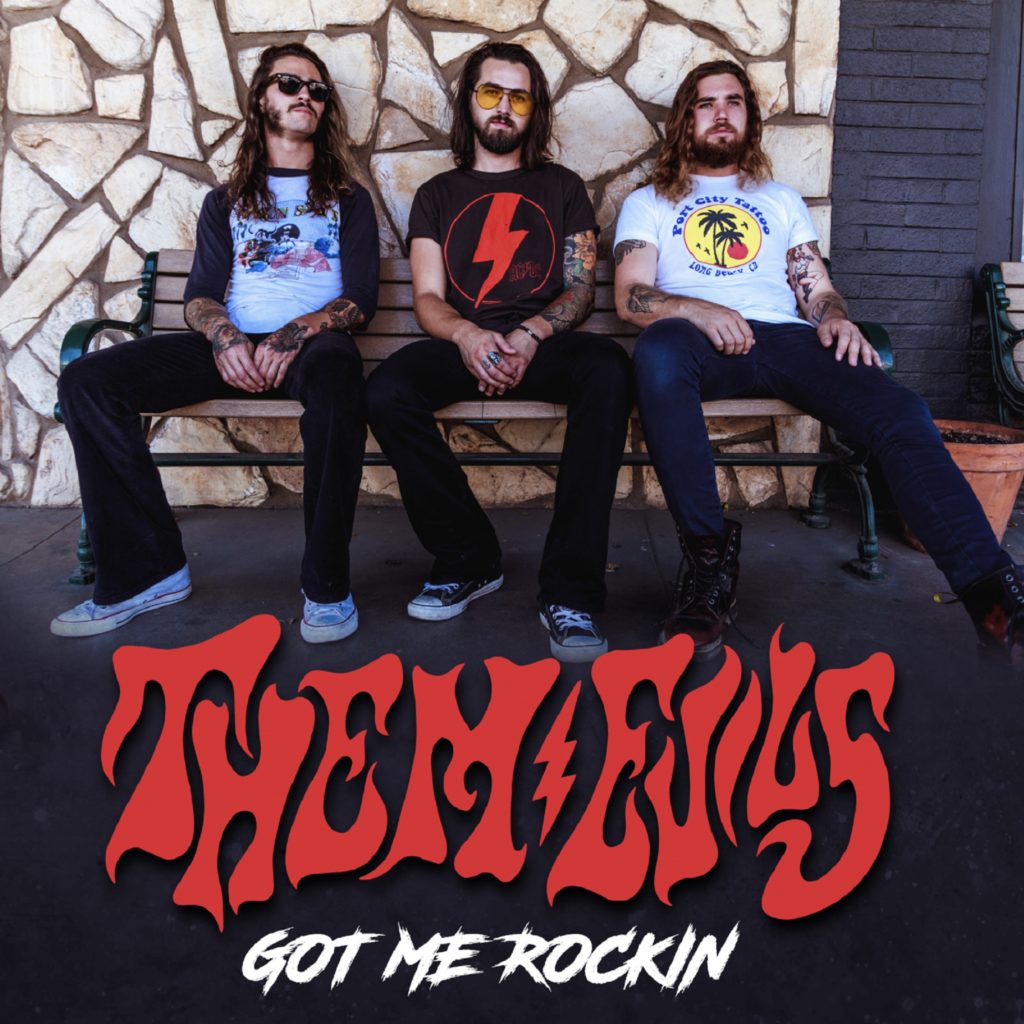 Southern California rockers Them Evils have started off fast and are accelerating rapidly. The band is endorsed by no less an icon than Zakk Wylde, who had them open for Zakk Sabbath in 2017.  They've toured with The Pretty Reckless and Alter Bridge; they have hit the stage at some of the biggest Rock festivals in the US – including Louder Than Life, High Elevation and Aftershock.  The band has just released their scorching new single "Got Me Rockin'", now available on all major digital streaming & sales outlets. An EP of new material will be released on May 4th through Burning Records that was recorded and produced by Kato Khandwala (The Pretty Reckless, Blondie, Drowning Pool, Pierce the Veil). The band is heading out on a national tour in April & May and is prepped to have a breakout year in 2018.
Them Evils' late-night joyride through Rock N' Roll's seedy underbelly was born in the shadows of neon vice and nocturnal living in Las Vegas, when Jordan and Jake met in High School.  They started writing and playing together and knew that they had a chemistry that was undeniable. In 2013 they made the move to Southern California to pursue their music professionally – with nothing to fall back on other than their drive and belief in their music and each other. They connected with David through a friend that worked at a bar with Jordan and who knew they were looking for a permanent drummer. Delaney auditioned for Griffin and Massanari, and all 3 knew it was a good fit immediately. The nasty energy befitting their name grew from there.
Inspired by equal parts of rock giants like Led Zeppelin, AC/DC, and Queens of The Stone Age, among others, the band pays tribute to their roots while carving out their own unique sound.  Them Evils music is at times throwback without being too derivative and is thoroughly modern. "We pretty much made our own scene," Griffin says. "We started out doing straight up rock and roll, and that's what we're still doing… That said, we're always evolving."
The band has released Two EPs: their debut "Cold Black Love" (2015) and the self-titled "Them Evils" (2016). They made inroads @ Active Rock Radio in 2017 with "She Got Nothin", which peaked @ #22 on the BDS Rock Indicator chart.
They were born for the stage and have been road warriors for the past 4 years – constantly touring clubs, as well as with the aforementioned The Pretty Reckless, Alter Bridge, Zakk Sabbath and 10 Years, among others. To support the new "Got Me Rockin'" single and to set up the May EP release, the band are set to embark on a west coast run with Red Sun Rising followed by their own headlining tour of the U.S. this spring. They will play Welcome to Rockville, Carolina Rebellion and Rock on The Range – with more tour dates being booked for the summer.
Them Evils are:
Jordan Griffin – Guitars/Vocals
Jake Massanari – Bass
David Delaney II – Drums
"Got Me Rockin'" is available at iTunes and Spotify.
Them Evils Tour Dates:
April 05 – Tucson, Ariz. @ Club XS*
April 06 – Phoenix, Ariz. @ Pub Rock*
April 07 – San Diego, Calif. @ House of Blues*
April 08 – Las Vegas, Nev. @ Beauty Bar*
April 10 – Anaheim, Calif. @ House of Blues*
April 11 – Sacramento, Calif. @ Holy Diver*
April 13 – Spokane, Wash. @ Knitting Factory*
April 14 – Portland, Ore. @ Dante's*
April 15 – Seattle, Wash. @ Chop Suey*
April 16 – Boise, Idaho @ Knitting Factory*
April 18 – Colorado Springs, Colo. @ Black Sheep*
April 19 – Denver, Colo. @ Streets of London
April 20 – Kansas City, Mo. @ The Riot Room
April 21 – Oklahoma City, Okla. @ The Blue Note
April 22 – Dallas, Texas @ The Prophet Bar
April 23 – Austin, Texas @ Mohawk
April 24 – Houston, Texas @ Satellite Bar
April 26 – Mobile, Ala. @ The Merry Widow
April 27 – Jacksonville, Fla. @ Welcome to Rockville
May 1 – Birmingham, Ala. @ The Nick
May 2 – Memphis, Tenn. @ Hi Tone
May 3 – Nashville, Tenn. @ The High Watt
May 5 – Concord, N.C. @ Carolina Rebellion
May 8 – Richmond, Va. @ The Camel
May 9 – Washington, D.C. @ Songbyrd
May 10 – Philadelphia, Pa. @ Ortlieb's
May 11 – Brooklyn, N.Y. @ Saint Vitus
May 12 – Hartford, Ct. @ The Webster (Underground)
May 16 – Lancaster, Pa. @ Chameleon Club (Lizard Lounge)
May 19 – Columbus, Ohio @ Rock on the Range
May 20 – Cleveland, Ohio @ Grog Shop
May 22 – Pittsburgh, Pa. @ The Smiling Moose
May 23 – Detroit, Mich. @ PJ's Lager House
May 24 – Chicago, Ill. @ Beat Kitchen
May 25 – St. Paul, Minn. @ Turf Club
May 26 – Omaha, Neb. @ Lookout Lounge
May 27 – Fort Collins, Colo. @ Hodi's Half Note
May 29 – Salt Lake City, Utah @ Metro Bar
*with Red Sun Rising