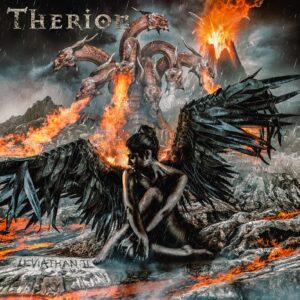 Maybe no other band hadn't got so flawlessly the tension of classical music to turn it into Metal music as Therion did. No other band hadn't got so flawlessly the essence of Opera and its voices and all to turn it into Metal music as Therion did. Looking backwards I guess this the shocking truth. Therion's music is the perfect union of all the musicianship of both genres. The name of the band is the first that pops up when the fan thinks of this perfect connection with the plus of the Death Metal background of the band. Therion have always been unique. Their sonancy is the pioneer of all Symphonic Metal bands that use female operatic vocals contrasting with male ones. Please my dear child of the night, check our reviews on Therion's 1995's "Lepaca Kliffoth," 1993's "Symphony Masses Ho Drakon Ho Megas," 1992's "Beyond Sactorum," and of course their first part of this album 2021's "Leviathan."
Al right then, this "Leviathan II" follows thew mystic vibe of its predecessor. My guess here is that Therion are more Symphonic than ever. And we're talking about a band that made this kind of influence its stapler. There are more female operatic vocals passages that overwhelm other vocals. Death Metal counterparts contrasts are shorter and little. For that reason the album is pretty consistent regarding to its sonancy. The influence of classical music got stronger in the album not only in the vocals. Instrumentals got there as well. There are more violins, pianos, and other acoustic or non-acoustic classical instrumentals. "Leviathan II" captures like no other Therion's spirit which are exactly this way of making music. The melodic passages with flawless female voices put the fan in a kind of entrance. As a contrast tracks as "Lucifuge Rofocale" tell the other side of the coin of the band with its vigorous guitar playing and the mix of vocals. "Lucifuge Rofocale" has a foot at Prog Metal if my dear child of the night pays real close attention to the twin guitars that emulate some classical playing and sound. On the other hand, there's no sign of the band's previous encarnation here. Following track "Marijin Min Nar" reinforces Therion's option for strong and prominent vocals for the album. Intricate duets take over with some charming  high speed guitar solos. With the don't mess with success spirit comes "Cavern Cold as Ice" that sums up Therion's musicianship. The track is able to combine both facetes of the band with strong guitars and prominent male and female vocals with some esotherical effects more aligned with the band's new era. Let's wait for the end of this trilogy.
Therion "Leviathan II" will be released on October 28th via Nuclear Blast Records.
Track Listing:
Aeon of Maat
Litany of the Fallen
Alchemy of the Soul
Lunar Coloured Fields
Lucifuge Rofocale
Marijin Min Nar
Hades and Elysium
Midnight Star
Cavern Cold as Ice
Codex Gigas
Pazuzu
Aeon of Maat (Alternative Vocals Version)
Pazuzu (AOR Version)
Watch "Codex Gigas" official music video here: