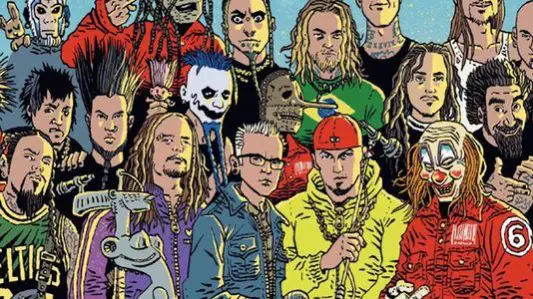 Kerrang! magazine have compiled a list of 21 best Nu Metal albums of all time.
They commented: Nu-metal was heavy music's gateway drug, and while today you might only listen to first pressings of Sunn O))) records and Darkthrone demos, we know – and you know – that at one point in your life you were sure that Mudvayne invented music and Osiris D3s were the only shoes available.
List can be seen below, for a full commentary on each album, check the original article.
21. Disturbed – The Sickness
20. Alien Ant Farm – ANThology
19. P.O.D. – Satellite
18. Chimaira – The Impossibility Of Reason
17. Sevendust – Sevendust
16. Kittie – Spit
15. Coal Chamber – Coal Chamber
14. Machine Head – The Burning Red
13. Spineshank – The Height Of Callousness
12. Mudvayne – L.D. 50
11. One Minute Silence – Available In All Colors
10. Soulfly – Soulfly
09. Mushroomhead – XIII
08. Static-X – Wisconsin Death Trip
07. Limp Bizkit – Chocolate Starfish And The Hot Dog Flavored Water
06. Deftones – Around The Fur
05. Slipknot – Slipknot
04. System Of A Down – Toxicity
03. Papa Roach – Infest
02. Linkin Park – Hybrid Theory
01. Korn – Korn