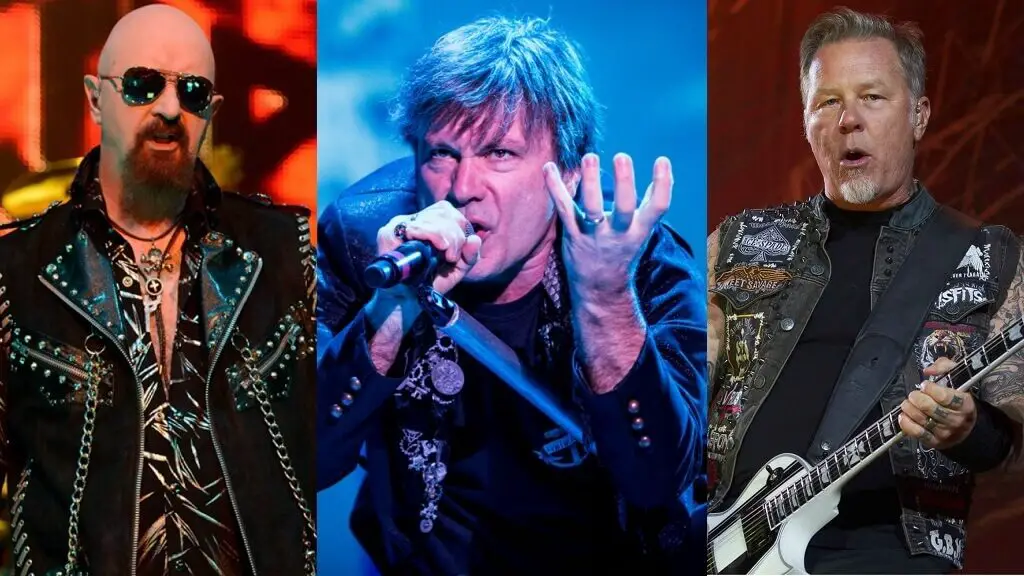 Metal Hammer recruited members of bands such as OPETH, DREAM THEATER, HIGH ON FIRE, GHOST, AMON AMARTH, KILLSWITCH ENGAGE and more to pick 50 best heavy metal albums of the past 50 years.
The list gives 10 record choices to each decade and combines both the 60s and 70s, as the latter didn't have much heaviness.
List can be seen below. To read commentary on each album, visit this link.
The 1960s-70s:
Coven – Witchcraft Destroys Minds & Reaps Souls (chosen by Mikael Akerfeldt of Opeth)
Black Sabbath – Black Sabbath (chosen by Neil Fallon of Clutch)
Deep Purple – Machine Head (chosen by James LaBrie of Dream Theater)
Alice Cooper – Welcome To My Nightmare (chosen by Rob Zombie)
Kiss – Alive! (chosen by Scott Ian of Anthrax)
Scorpions – In Trance (chosen by Johanna Sadonis of Lucifer)
Judas Priest – Sad Wings Of Destiny (chosen by Ben Ward of Orange Goblin)
Led Zeppelin – Presence (chosen by Dave Mustaine of Megadeth)
AC/DC – Let There Be Rock (chosen by Caleb Shomo of Beartooth)
Van Halen – Van Halen (chosen by Michael Starr of Steel Panther)
The 1980s:
Iron Maiden – Iron Maiden (chosen by Miho of Lovebites)
Motörhead – Iron Fist (chosen by Matt Pike of Sleep/High On Fire)
Dio – Holy Diver (chosen by Doro Pesch)
Celtic Frost – Morbid Tales (chosen by Mark Tremonti of Alter Bridge/Tremonti)
Possessed – Seven Churches (chosen by Tobias Forge of Ghost)
Bad Brains – I Against I (chosen by Jason Butler of Fever 333)
Metallica – Master Of Puppets (chosen by Matt Heafy of Trivium)
Anthrax – Among The Living (chosen by Philly Byrne of Gama Bomb)
Def Leppard – Hysteria (chosen by Tobias Sammet of Avantasia)
Helloween – Keeper Of The Seven Keys – Part II (chosen by Chris Jericho of Fozzy)
The 1990s:
Alice In Chains – Facelift (chosen by Elijah Witt of Cane Hill)
Slayer – Seasons In The Abyss (chosen by Johan Hegg of Amon Amarth)
Soundgarden – Badmotorfinger (chosen by Alissa White-Gluz of Arch Enemy)
Pantera – Vulgar Display Of Power (chosen by Cristina Scabbia of Lacuna Coil)
Faith No More – Angel Dust (chosen by Jesse Leach of Killswitch Engage)
Rage Against The Machine – Rage Against The Machine (chosen by Winston McCall of Parkway Drive)
Type O Negative – Bloody Kisses (chosen by Jami Morgan of Code Orange)
Mayhem – De Mysteriis Dom Sathanas (chosen by Joey Jordison of Sinsaenum)
The 3rd And The Mortal – Tears Laid In Earth (chosen by Tuomas Holopainen of Nightwish)
Meshuggah – Chaosphere (chosen by Carpenter Brut)
The 2000s:
Deftones – White Pony (chosen by Daniel Tompkins of TesseracT)
Linkin Park – Hybrid Theory (chosen by Aaron Pauley of Of Mice & Men)
Slipknot – Iowa (chosen by Dani Winter-Bates of Bury Tomorrow)
At The Drive-In – Relationship Of Command (chosen by Eva Spence of Rolo Tomassi)
Incubus – Morning View (chosen by Scott Kennedy of Bleed From Within)
Dimmu Borgir – Puritanical Euphoric Misanthropia (chosen by Tom Whitty of Dyscarnate)
System Of A Down – Toxicity (chosen by Brady Deeprose of Conjurer)
Andrew W.K. – I Get Wet (chosen by Alexi Laiho of Children Of Bodom)
Nine Inch Nails – With Teeth (chosen by Justine Jones of Employed To Serve)
Lamb Of God – Sacrament (chosen by Loz Taylor of While She Sleeps)
The 2010s:
Mastodon – The Hunter (chosen by Bryan Giles of Red Fang)
Behemoth – The Satanist (chosen by Pat Sheridan of Fit For An Autopsy)
Architects – Lost Forever/Lost Together (chosen by Jesper Vicencio of Ghost Iris)
Rolo Tomassi – Grievances (chosen by Charlie Rolfe of As Everything Unfolds)
Parkway Drive – Ire (chosen by Jurgen Van Straaten of For I Am King)
Gojira – Magma (chosen by Will Gardner of Black Peaks)
Neurosis – Fires Within Fires (chosen by Colin H. van Eeckhout of Amenra)
Code Orange – Forever (chosen by theOGM of Ho99o9)
Mykur – Mareridt (chosen by Ardo Cotones of Calligram)
Ghost – Prequelle (chosen by Dani Filth of Cradle Of Filth)