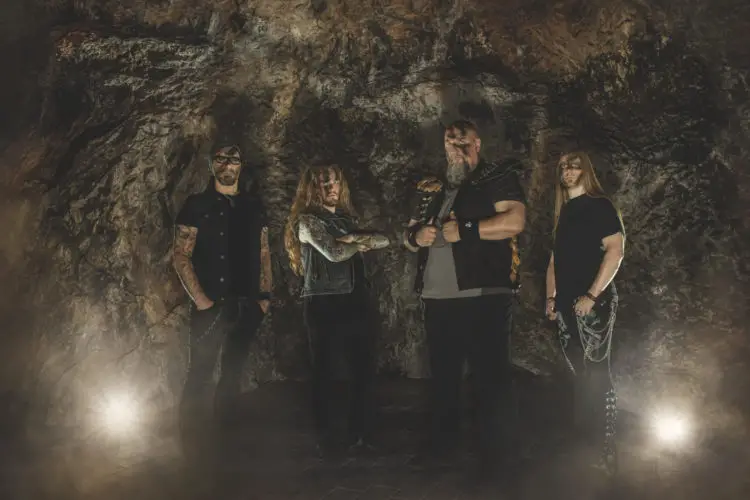 The band's fans were overjoyed when in summer 2020 Rage frontman Peavy Wagner presented the group's new line-up featuring two guitarists, announcing a return to the constellation that had recorded classics such as "Black in Mind" and "End of All Days." After last year's departure of Marcos Rodriguez, Stefan Weber (ex-Axxis) was enlisted, followed just a few weeks later by Jean Bormann (Angel Inc, Rage & Ruins). The fourth band member is drummer Vassilios "Lucky" Maniatopoulos, who has been with Rage since 2015. The current line-up could be seen and heard for the first time on the ´The Price Of War 2.0` video clip, a new edition of the same-named song from "Black in Mind," which has been available on all major online channels since June 2020. Immediately afterwards, the quartet commenced work on its brand-new album "Resurrection Day," available on Steamhammer/SPV on 17 September 2021 as a CD digipack, vinyl double album, premium box-set and for digital download. "I`m surprised how quickly the new line-up has gelled into a homogeneous team and how positively the talents of each band member have come into effect," says Wagner, looking back on a highly creative production phase and commenting on Rage's latest offering: "I feel that our music is still typical Rage on the one hand while sounding so much fresher on the other."
Rage have recorded twelve new songs covering a stylistic range that could hardly be more characteristic of the band, from raw thrash metal tracks like ´Virginity` (also the first video), ´The Age of Reason` and ´Extinction Overkill` through midtempo pieces such as ´Arrogance and Ignorance` and ´Monetary Gods` to the straightforward ballad ´Black Room` which balances things out. "Rage fans get exactly what they want on 'Resurrection Day,' plus a surprise or two," promises Peavy, mentioning in particular ´Travelling Through Time,` a number that explores the extremes between bludgeoning "shoot-em up grooves" (quote Peavy) and epic moments. "The song is inspired by Renaissance composer Giorgio Mainerio," he explains. "There`s a piece by Mainerio called ´Schiarazula Marazula`, with a wonderful theme that I often play at home on acoustic guitar. Jean and I have adapted it to suit the Rage format and given the song a different rhythmic perspective, which has added intensity. We've never done a number like ´Travelling Through Time` before."
While we`re on the subject: 'Resurrection Day' features another Rage cooperation with Pepe Herrero from Spain, who contributed atmospheric orchestral arrangements to four songs (´Resurrection Day`, ´The Age Of Reason`, ´Traveling Through Time`, ´Black Room`). "As before, the maestro's orchestration adds a whole new dimension, more depth and even more expressiveness to a number of our songs," Peavy praises Rage's thoroughly successful "Spanish connection". Speaking of which: "Resurrection Day" was mixed by Herrero`s compatriot Dani González Suárez, who has been the band`s live mixer for years.
And last but not least: Lyrically, Peavy once again proves that he likes to think beyond pure metal clichés. Although "Resurrection Day" is no concept album in the traditional sense, a common thread runs through all the numbers: "It's about the history of mankind from a philosophical and psychological point of view, two aspects that have always interested me very much. And that's exactly what I found so irresistible about making this album – to take a closer look at things that I've been thinking about for a long time."
So we can look forward to a very special Rage album, and of course eventually also to live shows. Provided that the situation allows it, Peavy and his men are set to embark on a major European tour in November 2021. With "Resurrection Day" on their setlist, the shows are guaranteed to turn into highly explosive events!
Line-Up:
Peavy Wagner (vocals, bass)
Vassilios Maniatopoulos (drums)
Stefan Weber (guitars)
Jean Borman (guitars)
Read our review here.