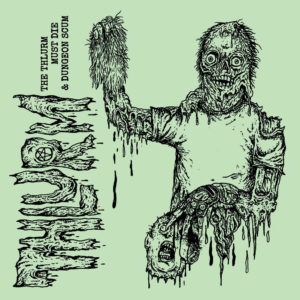 For starters, the name of the band is almost unpronounceable. It tricks the tongue. Then the production os totally loyal to the total lack of quality of 1980's independent studios. It's very difficult to listen to all instruments, vocals are sometimes hidden into the sonic mass, the guitars sound a little out of tune in some passages, and many others. But you know what my dear fan? It's the charm of this "The Thlurm Must Die & Dungeon Scum" whose sonancy remainds a lot Black and Death Metal pioneers from the 1980s. Well, a person who has heard Sepultura's 'Bestial Devastation" is able to listen everything in this sad and lonely and pathetic little world.
"The Thlurm Must Die & Dungeon Scum" kicks off with the blazing and creatively named "Intro" which is an appetizer for the hell it's to come. The fan will feel the lo-fi production but will end up falling in love with the band as I did. The nieve and unpolished guitars of "Running in Circles" give the song its spice and delicious taste. I once said the future of Metal music is in its past. The fan that listens to "Imaginary Hell" will forcibly agree to me. With no shadows of doubt the main drive of album is the creativity and songwriting. It's a clear case when a band has the great ideas by can't or wouldn't record them into exactly the way they imagined. Or even their minds are miles away from their instrumental dextery and prowess. "In the Corner" tells this tale.
To come to think of it that this album is the product of only one sick mind: Austin Sipes. Metal fans always had a flair for this kind of unpolished and poorly played music. That's because it comes from the heart and we appreciate this a lot. Metal music is more heart than musical prowess. have that in mind my dear fan.
"The Thlurm Must Die & Dungeon Scum" an album that will bring to tears fans of the early efforts of Sepultura, Hellhammer, and others.
Thlurm "The Thlurm Must Die & Dungeon Scum" will be released on April 29th via Wise Blood Records.
Track Listing:
Intro
Running in Circles
Disease
Imaginary Hell
Urge to Kill
In the Corner
Pills
Sacrifice
The Thlurm Must Die
Armageddon
Serpent Master
Redmage
Illusions of Chaos
Human Waste
Feed the Night