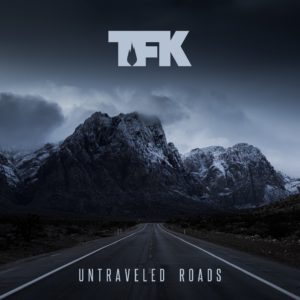 It's funny how things are connected in a way that we just can't understand, we don't even bother to understand. A few days ago I reviewed a band that made an usual and exciting mix with 1970s heavy and hard rock with modern rock. And just now I receive Thousand Foot Krutch with "Untraveled Roads (Live)," which do the same mix. The difference is that Thousand Foot Krutch have their separate moments, I mean, they write songs with 1970s taste and songs with modern metal taste. They don't mix them at all. In some moments they remind a lot Ted Nuggent. Maybe because of the strong and paced guitars leading the riffs. In other moments, I have to say the most, they sound pretty modern.
In general, alive albums are kind of a compilation of the band's career. They are usually planned to be a "the best of." Anf that's exactly what "Untraveled Roads (Live)," which gets different creative moments of Thousand Foot Krutch, as I said before. It's a recollection of the short and sharp powerchord riffed powerhouse that Thousand Foot Krutch are. Most songs have the dicotomy powerfull guitars/strong vocals, and that's the difference Thousand Foot Krutch make. Both can go easily from a 1970s based song to a modern metal one in a second. That takes tons of creativity. Though there are more modern metal songs than 1970s. I'd rather see a balance between them. I say that because the differential Thousand Foot Krutch have to offer us. That's only my opinion. I guess fans are hungry for something else, and those are melody and power. Besides that, Thousand Foot Krutch proposal fits a lot well to this sad, lonely, and messed up world we live in. The message Thousand Foot Krutch send is of hope. And hope is one thing that we are kind of short of. "Untraveled Roads (Live)" is an album of hope. BTW, the album title pleased me a lot.
Track Listing:
A Different Kind Of Dynamite
Be Somebody
Born This Way
Courtesy Call
Let The Parks Fly
Light Up The Sky
Push
Running With Giants
The End Is Where We Begin
The River
Untraveled Road
Thousand Foot Krutch "Untraveled Roads (Live)" is being released today, September 15th, via TFK Music/The Fuel Music.
Watch "Courtesy Call" official video here: