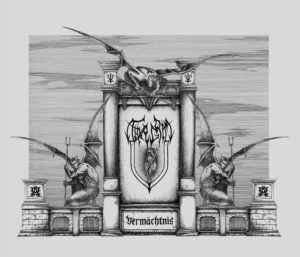 A big hail and praise to Metal diversity! Metal is the only musical genre in this sad and lonely planet that can keep up with all human emotions. And mostly, I must warn you, in only one band album. Thyrgrim are a serious candidate to that statement. Though their proposal is a right-in-your-face and straight-ahead metal, all songs features a lot of cadence and tempos variations. "Vermaechtnis" is at the same time an old and modern album. Old because some songs are a precious rememberance of the first wave of black metal. And I mean that because of the motorheadian atmosphere of "Fruehlingsdaemmerung" and the straight ahead metal of first track, "Die Heilung dieser Welt."
There was a time in Metal that the main goal was to be faster and heavier than Motörhead, just as Venom did. Thyrgrim  had their moments in "Vermaechtnis." But, there always one, that's 2017 and Thyrgrim couldn't forget that. "Die ewige Suche" and "Das Dunkel meiner Seele" are pure piece of modern black acts. They are dense, thick, and full of despair. I guess despair is the word that fits better to Thyrgrim music. Kain vocal lines are full of despair. And I guess we can say that they are full of deception too. I felt a lot of deception in the songs. Well, our planet isn't exactly the right and happiest place to be, isn't it?
The drummimg, as usual in modern black metal acts, is also a highlight in "Vermaechtnis." Take for instance "Das Dunkel meiner Seele" which the drumming makes it a much more interesting song because tempos breaks and the unusual cadence. The fast and furious someback with "Sklaven eines toten Gottes," a pure piece of early black metal with some dashes of some modernity. The machine gun drumming does a pretty good job. But not only, Non Serviam proves to be a very creative drummer highlighting each song with his blasts and fierceful playing. The despair atmosphere changes a little from now on with "Pfade der Vergaenglichkeit," which is a much angrier song.
I dare to say that Thyrgrim with "Vermaechtnis" got a step ahead in creativity. "Vermaechtnis" is an album with lots of complex feelings. Thyrgrim music isn't only dense, but also complex. Ending "Pfade der Vergaenglichkeit" with a chordly clean guitar was genious. "Vermaechtnis" is an album that begins with a crescendo tempo to, then, slow down a bit. Those tempo changes mean that Thyrgrim want to experiment more complex emotions that the speed almost hides sometimes. And that's the deal, that's what I meant in the beginning. Metal musicians are the ones who are technically able to bring up to their music all the complexity of human emotions. As we all know, there are a plenty of them. Human life is everything but simple.
Thyrgrim with "Vermaechtnis" wrote an ode to human life. "Vermaechtnis" is for humans, not for deities. But the music in it is blackly divine.
Track Listing:
Die Heilung dieser Welt
Fruehlingsdaemmerung
Die ewige Suche
Das Dunkel meiner Seele
Ich sehe euch brennen
Sklaven eines toten Gottes
Pfade der Vergaenglichkeit
Gefangen im Wandel
Sterbend 3
Das Ende einer Reise
Offenbarung
Thyrgrim "Vermaechtnis" will shine on September 29th via Trollzorn.
Watch the official audio clip here: