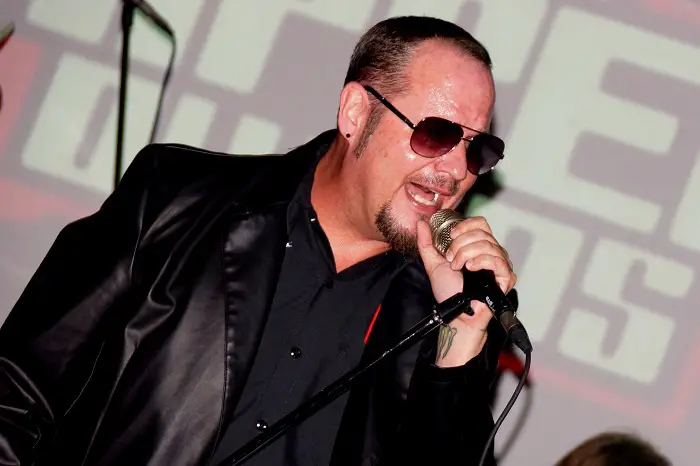 In an interview with Promoportal-Germany prior to the first concert of the "Dio Returns: The World Tour", which kicked off on December 6 in Bochum, Germany, Tim "Ripper" Owens explained decision to go on the road with a hologram of Ronnie James Dio, saying that the "groundbreaking" tour's ultimate goal is to please fans of the legendary heavy metal vocalist.
He says: "Me as a fan of music, I wasn't real sure at first — I wanted to see how it is — but this is something groundbreaking. For me, I would love to see a David Bowie [hologram performance], or I would love to see… maybe not a whole night, but AC/DC with… four songs with Bon Scott. Especially people I've never seen — Elvis [Presley], I'd love to see an Elvis one. Again, not necessarily a whole concert."
According to Owens, Ronnie James Dio's widow/manager Wendy, who is also a member of the Eyellusion team, "spent a fortune" creating the Ronnie James Dio hologram. "Everybody's, like, 'She's making money.' No, she's lost a lot of money, because she wants to please the fans.
"If Wendy Dio wants to make money, she would sit home and do nothing, because she's got property and real estate," Owens continued. "She loves the legacy of Ronnie. She's just like Ronnie — she loves to make the fans happy. She started doing this because she wanted to make the fans happy. Somebody came with the idea and she thought, in her mind, the fans would love it. Some of them don't. I understand it. I think they're a little rude sometimes, the things they say [on social media]."
Tim went on to say that he doesn't know why people find the idea of a Ronnie James Dio hologram so upsetting. "This is something that Ronnie would like," he explained. "If somebody said there's a David Bowie one, or a Frank Zappa one, the last thing in my mind about the David Bowie one would be thinking, 'Somebody's making money off this.' Well, of course they are — everybody does. You buy his records, you watch YouTube clips. My thought is, 'Wow! Somebody's actually… This is cool.' That's all I would think. I would just think, 'This is kind of cool. I'd like to go check it out.'"
Owens belives that the fact that DIO DISCPLES consists of former members of Ronnie's band adds legitimacy to the project. "It's a live band playing with this, something that's never been done," he said. "And we're still working out the kinks with it. These first run of shows… you know, it only gets better from here. This show tonight, we're gonna see what happens. My part is easy — Oni and I get up and sing with the band that we've always sang with the band. But the band playing with Ronnie singing, it's pretty hard to do and to get it right, and they're still trying to get it [just perfect]. So we're still working on perfecting it. It's gonna be some time, I still think, before it's gonna be exactly what everybody wants. It's never been done like this, with a live band."
Tim says that while he "gets" why people think performing with a hologram "might be weird," he is mystified by the fact that people are "not understanding the reason why it's done. To me, like I said, it's a no-brainer. If Elvis Presley was doing it, the last think I'd think of is, 'Somebody's making money off that,'" he explained. "I'd just think it's people trying to have somebody go see Elvis."
"They'll play video games of… they'll watch movies of stunt doubles of somebody who died, or they'll continue to watch these things, or they'll continue to do things with dead people not thinking anything of it, they'll go to a wax museum and see a wax museum of somebody who's passed away, but they'll think, 'Oh, this is great.' Well, somebody's making money with that too," Owens continued. "I know you think it's a tribute. I don't know… I don't get it. I don't get the reason why they don't let it rest."
Reiterating his previous point about Wendy having her heart in the right place, Owens said: "She's not even thinking of it [as a money-making venture]; she's still thinking of it as trying to have Ronnie make the fans happy. That's really what she talks about; that's all she thinks about. Everything she thinks about is what Ronnie would do to make the fans happy and trying to please his fans."