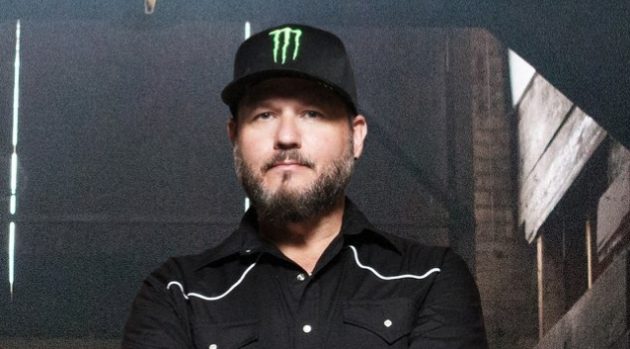 In a new interview with Rock Titan, former JUDAS PRIEST and ICED EARTH frontman Tim "Ripper" Owens" was asked how the most recent "Dio Returns" leg went, to which he responded (hear audio below):
"It was great. It's funny, the difference of the hatred beforehand and then having people come to it and watching the show and seeing it and just seeing the difference of how it changed a lot of people, when they witnessed it. 'Cause it's a show — it's entertainment.
He continued: "We don't need a hologram to continue on Ronnie James Dio's legacy — Ronnie James Dio's music is his legacy, and you will always have that. This is just something to go to a concert and go to a venue and experience a show and have fun with it. You don't have to have that, but his legacy continues.
"To me, I would love to see a David Bowie [hologram] show, because I didn't see him, and his career is like Ronnie James Dio that went so long. David Bowie kept reinventing himself as time went on, so I think it would be fantastic to watch Elvis [Presley] or watch David Bowie or watch a Lemmy hologram with Mikkey Dee and those guys. I think it would be fun. It's not replacing stuff — it's just a show, and to kind of go out and have some drinks."
Owens added: "When somebody dies in the movie industry, they make a digital person to finish the movie. This is what it's all about; this is how they move forward. And I don't think there's anything wrong with it. I mean, sometimes I think it might be better to watch a hologram of KISS right now than watch the actual band.
"STATIC-X goes out and they have a guy wear a mask of the singer who passed away, and I read these reviews, and people are, like, 'This thing is the most amazing thing ever. It's such a great idea,'" he said. "I'm, like, 'Dude, it's a guy standing there with a mask.' Or another thing — you watch tribute bands of Ronnie James Dio play all the time, and the guy tries to look like Ronnie, and that's fine. And it is fine to me — all these things are fine. I love music, and I love to celebrate it. But that's fine, but yet you do something like this… People just look at stuff to complain about. That's all it is — they just like to complain.
"I actually think it is what's gonna happen in the future," he added. "Technology moves forward, and it's gonna get better and better, and you're gonna go see shows like this… I'm certain there's a MOTÖRHEAD one in the works already, there's a Lemmy [hologram] in the works already, and I'm certain there's gonna be a David Bowie one. You just saw some other companies doing Roy Orbison and they're doing things like that… It's not the future of music, but it's the future of entertainment and another way for people to go out and have a night out and enjoy themselves."
Earlier this month, in an interview with KCAL 96.7 Rocks, Owens talked about about participating in the ongoing Ronnie James Dio hologram tour.
Since the singer only performs several songs with the band during the set, he was asked on what he does when he's not performing onstage, to which he responded: "Well, luckily for me, I sang with Yngwie for a while, so I'm used to not being on stage for a part of the show.
"It is kind of difficult, it's hard on your voice when you do a tour like this because your voice gets hot and cold.
"But it's funny you say that – I joke around with the crew on the side, I might have some water… if I'm feeling alright, I might have a beer. It [the show] moves pretty fast, it opens with a hologram, then I came out, then Oni [Logan] comes out, and then the hologram.
"Then I come back out, and then Oni and I sing something together, so this one's more enjoyable because I get to hear Ronnie singing songs with the band, so it's more enjoyable to stand on the side of the stage and listen to it."
When ask what's his favorite Dio song to perform live, he replied:
"You know, I love singing 'Don't Talk to Strangers' because I haven't sung it in a long time. Oni starts off with this little part, then I come in and sing the rest of the song.
"I really love singing all of them, I actually love opening with the show, when I come out, opening with 'Mob Rules,' I love singing that. One of my favorites – I'm not singing it on this tour – is 'Heaven and Hell.' I actually love singing 'Heaven and Hell,' you know, ups and downs, so much feel.
"Luckily, Ronnie's taken care of 'Rainbow in the Dark,' that's a tough one, Ronnie's a tough singer to sing. We have a new one, I love singing 'Invisible,' we're doing 'Invisible' now."