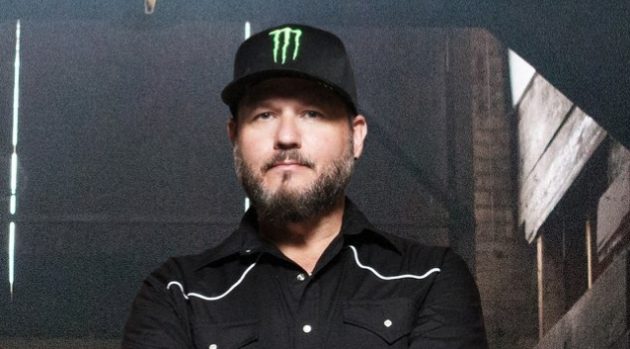 Former JUDAS PRIEST and ICED EARTH singer Tim "Ripper" Owens was recently interviewed on California radio station 96.7 KCAL-FM program "Wired In The Empire" were he discussed "Dio Returns" hologram tour.
On the preparation that went into the "Dio Returns" tour (as transcribed by Blabbermouth.net)
Tim: "We've got a few songs we sing with the hologram and we've got to figure out where to stand, things like that. The pre-production was really long and right to the last minute. You're syncing everything together, and it's not just a hologram — it's a giant light show and video screens and all this stuff going on. There was a lot [that went] into it.
On the structure of the show:
Tim: "It really just goes itself. We don't want to talk too much, to be honest. I think we just want the show to run into each other. I'll come out and sing a couple, and Oni [Logan] will sing a couple. Obviously, in between, the hologram songs are going on, which are unbelievable, and then Oni and I will sing some together. I try not to do too much talking. For some reason, this show, it doesn't seem like I should… It's a special show. It's an amazing show. It's a very big production — a semi and two tour buses — and we got this thing out there. A lot of money is being spent to try and bring happiness and enjoyment to fans. Some fans don't like the idea because they think [it's] a cash grab, which is the stupidest thing I've heard because it's actually a cash grab in the opposite. It's a cash giveaway, because [Wendy Dio, Ronnie James Dio's widow and longtime manager] is throwing money out to do this thing. It's really an amazing show. It's a spectacle, entertainment, and it's unbelievable."
On his favorite DIO song to perform:
Tim: "I love singing 'Don't Talk To Strangers' because I haven't sang it in a long time. Onistarts off with the slow part, and then I come in and sing the rest of the song. I really love singing all of them. I actually love opening the show, when I come out opening with '[The] Mob Rules'. I love singing that. One of my favorites always to sing, which I'm not singing on this tour, is 'Heaven And Hell'. I love singing 'Heaven And Hell' — its ups and downs, and so much feel. Some are them are pretty hard, singing. Luckily, Ronnie's taking care of 'Rainbow In The Dark', because that one was always a tough one. Ronnie's a tough singer to sing. That's why Oni and I aren't pretending to be Ronnie Dio. We're our own singers."
On where things stand in regard to a DIO DISCIPLES studio album:
Tim: "I really haven't heard anything new on it. I've been busy making my own records, and I'm waiting to see what's going on. I don't know if it's still out there, if we're going to do it. I'm not sure. This past year, I've released [the] A NEW REVENGE record; I did SPIRITS OF FIRE; and then I released THE THREE TREMORS. I have three different types of music out there for myself, so I'm just waiting to see what's going to go out with the DIO DISCIPLES stuff."
On juggling multiple projects:
Tim: "It's a blast. It makes me be able to make a living. I do a lot; I stay busy; I do music. I'd rather do that than put a roof on right now in my life. To be out there in the hot sun tarring roofs, I think I'd rather be singing in a studio."
On CHARRED WALLS OF THE DAMNED, his project with heavy metal drummer-turned-Howard Stern sidekick Richard Christy:
Tim: "I don't know what Richard's plans are. I'm extremely busy, but I'll always have room to do make a new CHARRED WALLS OF THE DAMNED record. Richard's busy as well, but I would love for us to do it, because they're successful records. I know that we're not paid a lot to make the records, so it's not a very big investment that's put into it, and it's on a fantastic record label — Metal Blade. Brian [Slagel] and everybody at the record label is great. It's a low-cost record, so I know they'd have to be making some money back, so I think we definitely would be making another one."
On his favorite JUDAS PRIEST song to sing live:
Tim: "I loved singing the ones I did. I loved singing 'One On One' and 'Burn In Hell', but I loved singing the classics. I loved singing 'The Sentinel', but I probably loved singing songs like 'Metal Gods' and 'Grinder' [more] so I could get a break. Some of those songs off 'British Steel' would give me a nice break, or 'Hell Bent For Leather'… All those songs are so great to sing for a certain reason. Another one I do love singing is 'Electric Eye'. That's what got me sold on JUDAS PRIEST was that song. When I heard Rob [Halford] change his voice about three or four times at the beginning of the song, I was like, 'That guy's awesome.'"