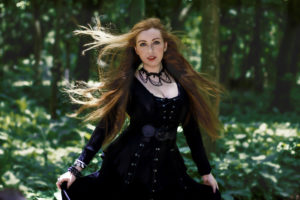 Metal Addicts had the pleasure of interviewing Lyria's Aline Happ to talk about a very important matter which the role of women in Heavy Metal. Here are some excerpts of the interview. Read the full text here.
 Metal Addicts – Women's presence in rock and Metal has a very particular way to be. Though some genres into rock have a large participation of women as audience, there aren't so many women as musicians. When it comes to Metal, things get a little worse because women are a minority into the audience and even a smaller part of musicians are female. It seems sometimes that there are musical genres for women and for men. Bottomline, pop is for women and Metal is for men. Why do you think there are few women into Metal as audience and as musicians? What is your opinion about it?
Aline Happ – It is true, we have many more male than female fans and we can observe this as a trend in the metal scene. I believe it is more a historical and cultural thing and because there are many more female models to be followed in pop, for instance, than in metal. So, it becomes a kind of deadlock situation: we need more women as audience to later become musicians, but we need more successful female musicians to attract more women as audience. Despite it, many people that are not familiar to metal think it is noisy and aggressive, so there is a prejudice with this genre. In this sense, I believe it is more common among women, because some of them may associate this supposed aggressive behavior to a man thing.
 Metal Addicts – I've been reviewing albums for two years and a half and I remember of reviewing only one all-female band. I still remember the name, it was Jenner from Servia, I guess. The number of female singers is far larger than guitarists, drummers or bassists. Why do you think this happens?
Aline Happ – Well, as we talked before, there are not as many famous women musicians in metal as men to inspire new ones. Said that, statistically, it is easier to find a woman in a band than many women together in the same band. About having more singers, I believe that it is because they are generally in more evidence, so they become role models and they inspire other women. Also, I believe some women have been discouraged by some people about playing some kinds of instruments during the history, because the instruments were too heavy for us, or we would look "masculine" playing them, etc.
Metal Addicts – I love female bands, and I said that a lot of times at Metal Addicts. Female bands have a different approach, different lyrics, the playing is somehow different. One of the albums I love most is Phantom Blue'sself-titled, an all female band. I love bands as The Runaways, Lita Ford's solo career, Doro, and many others. Who are your female influences? Do you have a role model?
Aline Happ – Can I disagree with you (laughs)?
Metal Addicts – Of course you can. We're here for you (chuckles). You're the guest.
Aline Happ – I really like a lot of female bands, however I don't see this difference in the approach and lyrics. I think this difference is more related to the band's style. So, I don't care if it is a woman, a man or even a mascot playing (laughs), I just want to enjoy the music. My main female influences are Amy Lee, Cristina Scabbia, Floor Jansen, Sarah Brightman, Sharon den Adel, Simone Simons and Tarja. Nowadays, I believe I am becoming a role model to myself and to people.
Watch "Let Me Be Me" video here: