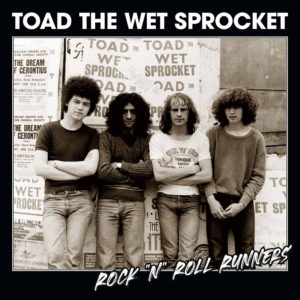 To say that Toad the Wet Sprocket "Rock'N'Roll Runner" has a great deal of AC/DC influence it would be very easy. Indeed it does. But as my dear fan knows I like to go deeper into my analyses of albums. I like to find what everyone else wouldn't think about. But to find enough evidence to say that in fact their huge influence would be Rush's first and eponymous album isn't that easy. Of course, Led Zeppelin is happily embedded in the mix.
Title track and album opener "Rock'n'Roll Runner" gives the fan this idea of all this AC/DC fantasy that all bands rooted on 1970s Hard Rock have some kind of relation with. As I said I don't deny AC/DC's influence to Toad the Wet Sprocket – by the way, what such a 1970s name. But I guess Rush talk it louder. I see lots of Rush in the guitars and not only from "Rush" but other efforts. Well, the band and Rush could be kind of contemporaries. I really don't if Rush had all this influence in the early 1980s. Talking about Led Zeppelin I suggest the fan to go straighht ahead to "Feel It" which sounds a lot the late Led Zeppelin songs especially the Jazz Rock drive including the jazzy electric piano and the disco bass lines. This track really takes the fan far away from the initial intent of the band. So does following track "Blues in A" whose Blues drive takes the fan farther. Between you, my dear fan, and me, one of the best tracks of the album. Which, by the way, proves me right about Rush's influence. So I think.
"Rock'N'Roll Runner" is an extremely varied album. I guess not many metalheads might like it. Such a pity because the album is a great piece from the early NWOBHM and shows many influences that Metal bands had. I'll tell you a secret. I chose this album to review because I thought I wouldn't like it and it would be easy to let it go. Flat wrong. For instance, "Heart and Mind – Part 1" is just genius.
Ah, forgot to say that "Rock'N'Roll Runner" is a re-release and a compilation. By the way, not to confuse with the Californian eponymous.
Toad the Wet Sprocket "Rock'N'Roll Runner" will be released on December 17th via High Roller Records.
Track Listing:
Rock 'n' Roll Runner (BBC Friday Rock Show)
One Glass of Whisky (BBC Friday Rock Show)
Big Deal (BBC Friday Rock Show)
Just Another Game (BBC Friday Rock Show)
Do It for Me
I Never Wanted to Be Loved
Baby
Pleasure and Pain
Rock 'n' Roll Runner (Demo)
Reaching for the Sky (Single)
One Glass of Whisky (Single)
Pete's Punk Song (Single)
Feel It (Single)
Blues in A
Heart and Mind – Part 1
Heart and Mind – Part 2
Charlie
Watch "Reaching from the Sky/One Glass of Whiskey" official video here: