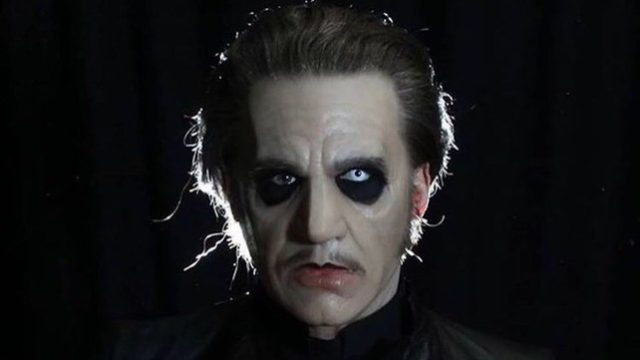 In a recent conversation with Revolver Magazine, GHOST leader Tobias Forge talked about Jeffrey Fortune, the 52-year-old man who died of cardiac arrest during the band's show in Milwaukee, WI on May 31 this year.
Forge said: "He fell down and succumbed to a heart condition mid-show, basically. Sometimes at big shows, people get injured and whisked off to the hospital and you don't really know their fate, so it might not affect the show. But this took place in front of a completely lit-up room.
"People were standing in a circle and watching this man pass away. It was a horrifying scene – his wife and son were there – so we cut the show short and decided to make it up on one of our days off on this tour. We figured that would be a good way to make it up to the family and to the 2,000 people who just saw half a concert. It felt very good, very purposeful."
GHOST went on to made a special t-shirt available at the Milwaukee show, featuring an image of Jeff Fortune and frontman Cardinal Copia dressed as Michael Myers from 'Halloween.' All the proceeds from the shirt went to the family.
"As you all know, when you have someone passing away here in America, especially if it's a parent, it might cause a quite drastic economic toll on the family," Forge said. "So we definitely wanted to do our best in order to contribute something. The fans were super-great – they made a GoFundMe that I know the family got a lot of money from. They seemed to be ok, which I'm happy about."
He also said he met up with the family of a late fan:
"We spent some time with them before the show the other night because I wanted to make sure… We'd been in contact before about the rescheduling of the show, because we wanted to make sure they wanted to partake or whether or not they wanted to have the show as a tribute to their husband and father.
"And also if we could use his likeness – things like that you just wanna be very kosher about. You don't wanna step on any toes. You never know how people handle things like that, so we wanted to talk with them and make sure everything was OK. And apparently I ran into some of them before – they were saying hi outside the bus or something at one of our other Milwaukee shows."