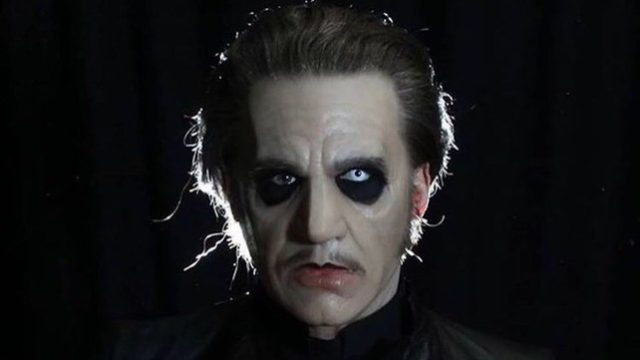 In a new interview with 101WKQX, GHOST leader Tobias Forge talked about the band's beginnings, how he initially wanted to be a guitar player, and about the possibility of hiring a new singer so that he can focus on playing a guitar.
He said: "In 2006 and onwards, when GHOST sort of began to appear in my head, my intention was to just play the guitar. I wanted to write everything and do backups on the vocals, I just wanted to be the guitar player."
When asked if it's "weird" to never play the songs he created for the band live in concert, Forge replied: "In a way. It's not weird because now obviously I'm conditioned into being this singer guy, but if I had my way – and definitely in an alternative future if whatever happens – I could definitely picture myself sort of getting someone else to sing and just play the guitar.
"I love playing those songs myself. Obviously, I don't do it very often, and of course, the more time I spent jumping around doing other things, the less I play guitar.
He added: "It's a little bit of a cycle where every time I come home, I play a little bit more and then I go on the road, and I play a little bit less, and then as soon as I go into the studio again, I have to really, really, like, get my chops up again."
In a recent interview with Revolver Magazine, GHOST mastermind Tobias Forge talked about the musical direction he wants to pursue with the band's next album.
The musician pointed out he is aiming to "make a different record" from the latest GHOST effort, 2018 Prequelle, which he described as "a little ballad heavy." 
Tobias added: "I want it to feel different. If I dare to say 'heavier,' people think that it's going to be Mercyful Fateall the way … but I definitely have a darker, heavier record in mind."
GHOST's latest album, Prequelle, was released on 1 June 2018. The album marked the band's strongest selling debut to date, landing at number 3 on the Billboard 200, selling 66,000 copies in its first week, with 61,000 of those being "traditional" album sales.