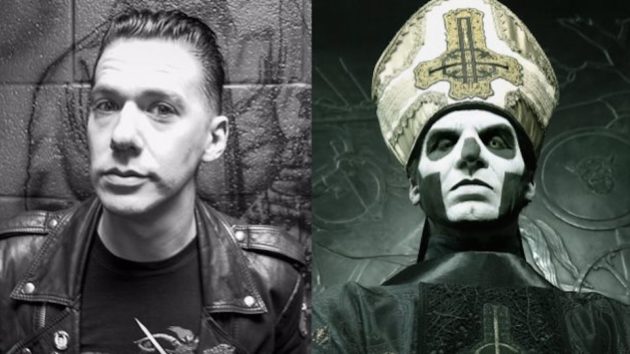 GHOST mastermind Tobias Forge, who performs as Papa Emeritus, publicly unmasked himself for the first time since the band's formation for an appearance on "Sommar i P1", Swedish radio channel P1's daily one-man show which has aired every summer since 1959.
Forge shared lots of interesting information about himself during the Radio P1 Sverige show. "I lived with my mother in Linköping, and my father was living with his new family outside Norrköping, as a child and teenager I was often very upset about this situation, and felt robbed of a normal childhood, safety and, well.. money, normality, parents who loves each other."
He continued: "I hated that I, every other weekend, was forced away, and it felt every time like being picked away from my own life where I had full freedom to dream away – I was instead to be forced into their new world, where they have chosen each other, they loved each other.. Where I was not only subordinate my new younger brother, who I was to play with, but also where I was to participate socially in their reality."
He added: "I stopped going there when I was 10. Now afterwards I just want to point out that I, nowadays are fine with my somewhat messy childhood. Partly because me, right now, as a grown-up know that it was as I experienced it, and not necessarily exactly as it happened, and nowadays I have a really good relation with my father. I also have a good relation with my beloved younger siblings, who are not that small anymore … The devil became my companion, we went unconditionally hand in hand throughout my puberty and teenage, he was exactly the pointed finger in the air I needed when I was the most angry. And also now in less agitated days are we still great friends."
Forge also revealed that his brother Sebastian passed away right after he posted GHOST's first songs onto MySpace. After his brother's funeral, Tobias opened his computer to find GHOST's initial tracks were resonating with music lovers.
"I opened the screen and visited MySpace – a MySpace that by this time absolutely had exploded with energy, 10 times more than the previous night," Forge recalled. "Thousands of people had been in an listening to the songs and it was more mail than I could answer. Mail from people from all around the world. Mail from record labels – record labels who wanted to check the possibility of collaboration. Mail from members of famous bands – mail that was absolutely filled with praise."
Forge sobbed as he continued to speak about his brother, "I yet haven't stopped, since that day. I'm not going to do so either, until it's for real is has reached an end – Do you hear me, Sebastian? I did it at last.. It took some time.. and it was very sad that we didn't get to experience this thing together. It would be great if you could've come out on some tour and visit.. But, sometimes it actually feels like we meet, on different locations around the world."
Tobias ended the program by telling the listeners: "My name is Tobias Forge and I'm the man behind the mask in GHOST. Thanks for listening."