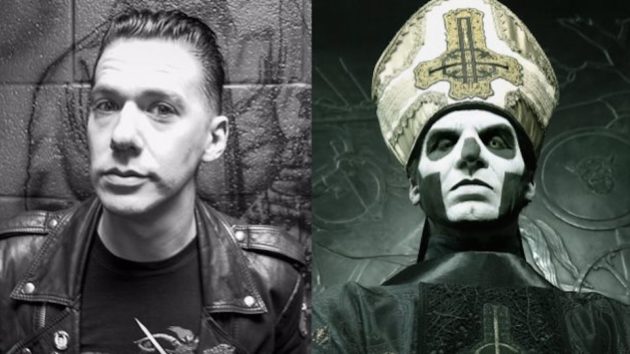 GHOST mastermind Tobias Forge explained to Revolver Magazine how his initial goal was only to be the band's guitarist, not the singer, saying during a recent interview: "Even when I was a kid, I always sort of identified myself with Keith Richards and Slash more than the singers of the bands.
"And even though I absolutely adore Mick Jagger in 1982, the way he looked and the way he performed, I wanted more to be the guitar player who was cool and smoked a cigarette without coughing.
"And so I was like [at the time when the band was starting out], 'These are just demos with my vocals.' They were gonna be guide vocals."
The source then went on to list the singers who could've taken the position of Papa Emeritus, but said no. The post reads:
"Forge's first choice for the vocalist position was Messiah Marcolin, former singer for Swedish doom masters CANDLEMASS. But Marcolin turned him down.
"Forge then approached Mats Levén, a veteran Swedish vocalist who did a brief stint in guitar wizard Yngwie Malmsteen's band and has since become the latest singer of CANDLEMASS. But Levén passed, as well.
"So did Christer Göransson of MINDLESS SINNER, '80s metal heroes from Forge's hometown of Linköping, Sweden. ('He said, 'I have my own band and this seems a little bit goofy," Forge recalls.)
"So did JB Christoffersson of GRAND MAGUS. Forge became GHOST's singer by default."
At that time, Tobias was in his late 20s, married, with twin infant daughters. He used to work at a call center for a Swedish mobile phone company, and GHOST was his sixth band. He added: "You can regard my life and say that not a whole lot happened before that. I had two kids and a social life and [getting married] was a big step in life, but career-wise and [in terms of] fulfilling yourself and touring goals, it was definitely 29 years of what felt like non-activity."
Forge then posted the first GHOST demos on MySpace and was contacted by multiple labels and managers within just two days. But the same day GHOST debuted online – March 12, 2010 – was the day when Tobias' brother Sebastian unexpectedly died. Forge explained: "I didn't know at the time, but he had a heart disease that was – there's an elegant word for it that I don't remember, but apparently there's a condition where your [heart] muscles basically stiffen up. So unfortunately, he passed away literally on the day GHOST went public. That night, my whole life changed."