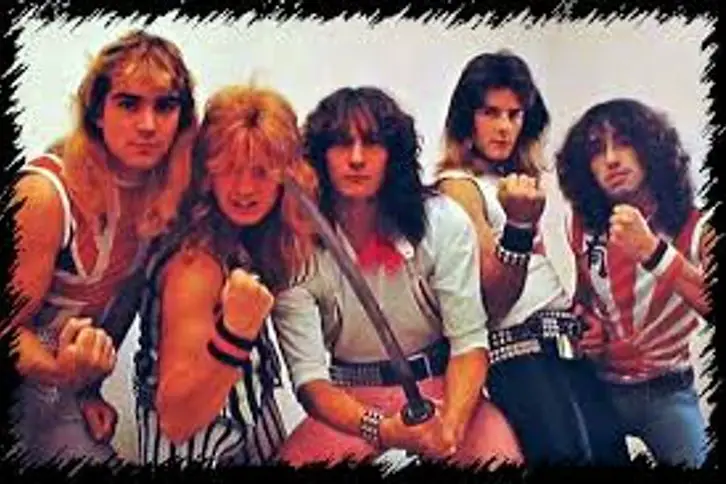 Wiltshire's favourite New Wave Of British Heavy Metal outfit TOKYO BLADE did not have an easy start into their career by any stretch of the imagination. Before settling on the name TOKYO BLADE, the band was initially called Killer and then Genghis Khan (under which name they recorded a privately pressed double 7" single in 1983). When Alan Marsh (vocals), John Wiggins (guitar), Andy Boulton (guitar), Andy Robbins (bass) and Steve Pierce (drums) finally became TOKYO BLADE, they were widely tipped to become the next big thing of the glorious NWOBHM, following in the footsteps of Iron Maiden.
The band's self-titled debut album, originally released on the then new Powerstation Records in 1983, took the British public by storm. The record received excellent reviews in the press, which widened TOKYO BLADE's fan base quite considerably.
When it became time to write and record the songs for their second album "Night of the Blade," one could have assumed that the mood inside the TOKYO BLADE camp would have been rather optimistic. But this was actually not the case. "I do wonder sometimes what would've happened if my dear mother had never bought me my first guitar and if I had never formed my first band," wonders original guitarist Andy Boulton today. "Back then it was much more difficult to write and record songs," continues Boulton. "I didn't have my own home studio back then and technology wasn't as it is now of course. With the first album selling very well and the Europeans now going crazy for us, the record company decided we needed a follow-up album. Alan and I with Wiggins as co-writer on a couple had 90% of the songs written for what was to become 'Night of the Blade."
So far, so good… But somewhere along the line the band's record company decided the band should get rid of their singer Alan Marsh: "Alan didn't take this news well and was naturally very upset, he told us that he was quitting. We did try to persuade him not to go and we would fight for him to stay in the band. But Alan wasn't having any of it and he left there and then so we were now consigned to having another vocalist which was Vic Wright."
What you hear on "Night of the Blade … The Night Before" is the original version of the second album (with Alan Marsh on vocals). That was before the record company started to tinker with it, as Andy Boulton shudders to remember: "We did not re-record the album, only Alan's vocals were replaced. Kevin Nixon from Powerstation decided to leave Alan's backing vocals on and some of his lead vocals here and there. I took Kevin to one side and told him that I didn't think it was fair. But we were under the thumb of the record company, we still hadn't received any money from them and we felt a little bit powerless. So Vic replaced Alan's vocals with his own, still singing Alan's lyrics and melodies."
Read our review here.