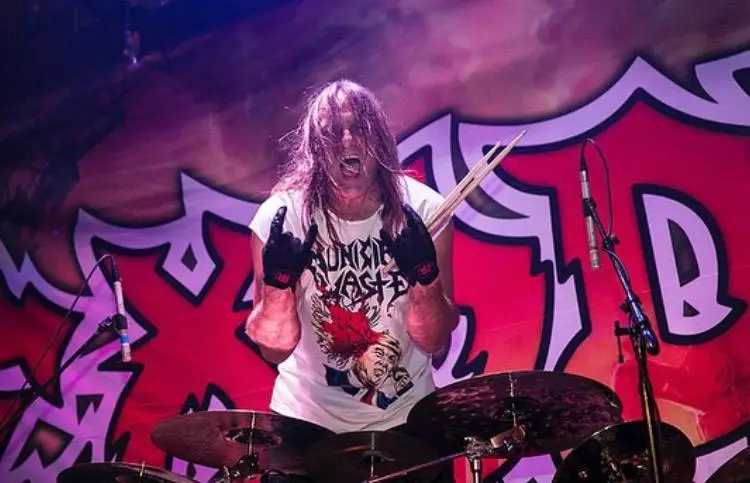 EXODUS drummer Tom Hunting rejoined his bandmates on stage at the Aftershock festival in Sacramento, California this past Thursday, October 7. The concert marked his musician's first appearance with the group since undergoing a successful total gastrectomy in July in his battle with squamous cell carcinoma (SCC) of the stomach. Video footage of the performance can be seen below.
EXODUS guitarist Gary Holt wrote on Instagram: "@aftershockfestival was EPIC!! The return of my man Tom Hunting, who just destroyed his drums!"
EXODUS will release new studio album, Persona Non Grata, on November 19 through Nuclear Blast Records. You can pre-order album via Amazon here.
When we think of the phrase Bonded By Blood, we think of two things: a brotherhood that is meant to outlast the trials of war, pain, and time… and the almighty EXODUS. With a bond forged in youth and decades-old friendship, the undisputed masters of thrash metal return with their eleventh studio album: PERSONA NON GRATA due to be released early fall 2021 via Nuclear Blast Records. Literally translating to "an unwelcome" or "unacceptable" person, PERSONA NON GRATA touches on themes of modern societal disgust and degradation. "The people that disgust you – cut 'em outlike cancer," explains guitarist Gary Holt. "Who is that person? It could be anybody. That's up to the listener. Who is 'Persona Non Grata' to them?"
The underlying irony for many of these songs is the need for unity. "As we were working on these songs, things started happening around the world that ended up tying into it all, and we didn't even know it! With the general divisiveness in the country today, and everyone being entitled to their opinions; I don't agree with a lot of them, but I'm not here to be a preacher, either. We want people to listen to the lyrics and come up with their own meanings."