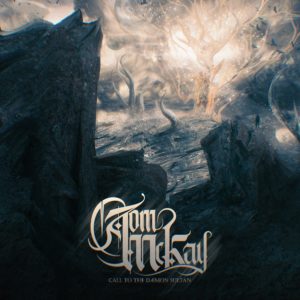 "Call to the Dæmon Sultan" is an album that takes the fan to many unexpected worlds. It's a travel into the unknown and into Extreme Metal music. Not only to Extreme Metal but also to some other far influences. This is like a muscial symbiosis between Extreme Metal and classical music. It's hard to tell when one finishes to start the other. The same happens with the vocals. At the beginning they are harsh and hard as hell. Then comes a female voice that reminds a lot the 1980s pop which gives a blatant musical contrast with all the rest of the album. This is the album that the fan will get curious to know what comes next because it's impossible to tell.
I got very impressed with the grandness of the album. The symbiosis between Extreme Metal elements and the grand of classical music works fine. Last, but no least, track "The Benighted One" tells a lot about this feeling. It's where the mix gets more accurate and takes the best from both elements. It's also the track where the female vocals done by special guest Lindsay Schoolcraft contrasts the most. I say that because her voice doesn't match with all the mood and instrumentals of the track. It's kind of out, if my fan knows what I mean. If the fan pays close there is another male voice in the middle of everything. So clean and in the background.
The album is kicked out by all the pomp and grandness of the tittle track "Call to the Dæmon Sultan" which for the surprise of many is only an intro. But what an intro. I dare to say that it's kind of an opera opener with its style and fancy elements. Even though it's an EP the following tracks give all the understanding and cohesion the fan wants from an album. Cohesion is a great word to explain everything I heard and felt in here. Interesting fact about the album is that I stranged an Extreme Metal release having the name of a person. This generally happens to other kinds of music. This is the first time I see it for Extreme Metal. Well, there's always the first time for everything.
Tom Mckay "Call to the Dæmon Sultan" will be released on February 18th.
Track Listing:
Call to the Dæmon Sultan
Dishonoured King
Faith in the Faceless
The Benighted One (feat. Lindsay Schoolcraft)
Watch "The Benighted One" official lyric video here: