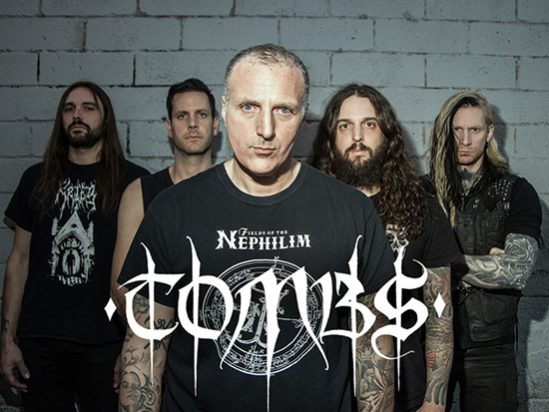 Brooklyn-based experimental metal outfit Tombs has entered Mana Recording Studio in St. Petersburg, FL to begin recording their fourth full-length. Produced once again by Erik Rutan (Hate Eternal), this currently untitled album is set for a summer release via Metal Blade Records.
Guitarist/vocalist Mike Hill comments: "I've been gearing up for this moment for all of past year. Rutan is a master and I'm intending on us delivering the most punishing Tombs record to-date."
Blending bleak, post-punk minimalism with the ferocious attack of sludge and traditional black metal, Tombs has established themselves as an act that's as committed to consistency as it is to growth, developing smoothly (but never predictably) over the course of their career, and earning a multitude of accolades along the way (including "album of the year" from Decibel Magazine for 2011's Path Of Totality!). In addition to their acclaimed releases, Tombs has also become revered for their captivating live shows, touring extensively with an array of artists such as Eyehategod, Pelican, Isis, Wolves In The Throne Room, The Secret, Ulcerate, Pallbearer, and 1349, plus appearing at renowned festivals: Roskilde Festival in Denmark, Roadburn in The Netherlands, and Psycho California and Maryland Deathfest in the USA. Now, with their upcoming fourth full-length, the quintet is poised to continue the momentum that's been building since their formation in 2007. Stay tuned for more news coming soon!
Tombs line-up:
Mike Hill – Guitar/Vocals
Charlie Schmid – Drums
Ben Brand – Bass
Evan Void – Guitar
Fade Kainer – Synth / Vocals