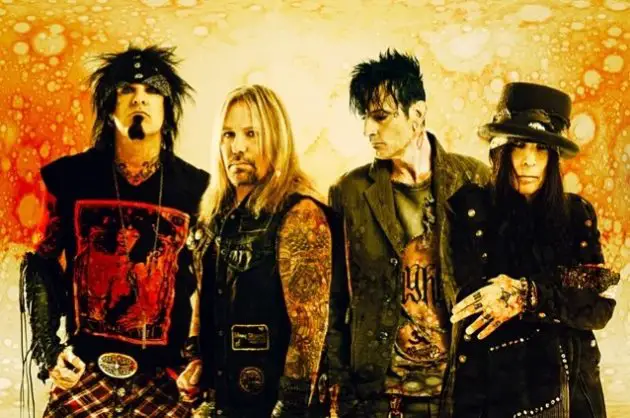 In a recent conversation with Terry "Beez" Bezer of Knotfest.com, MÖTLEY CRÜE drummer Tommy Lee discussed the postponement of the band's "The Stadium Tour" with DEF LEPPARD, POISON and JOAN JETT & THE BLACKHEARTS to the summer of 2021.
"We were just about to start [rehearsing]," Tommy said. "We were gonna start at the beginning of May, rehearse everything, get the production and everything ready, all of May. We would have been in Miami right now rehearsing in the stadium — we had locked out five days in the stadium to rehearse. This week, we would have left rehearsals here in Burbank and we would have been on our way to go set up shop at the stadium and we'd be ripping it right now."
When asked what people can expect from the band's stage show when the tour eventually happens, Lee said: "Dude, oh my God. I wish I could tell you… All I can tell you is, once again, be careful what you wish for. We take it seriously, and what you can pull off in an arena, I think we've pulled off pretty much everything you could possibly ever even f*cking think of. So now we get to play with a f*cking ginormous stadium that has no roof on it… I'm just telling you right now: the production… And it's still there — it's just put away in a couple of giant warehouses. But, dude, can I just say it's f*cking ridiculous?"
MÖTLEY CRÜE and DEF LEPPARD have recently issued an official statement regarding their "The Stadium Tour" with POISON and JOAN JETT & THE BLACKHEARTS postponing it to 2021.
Bands said in a statement: "We wanted to continue to communicate with our fans and update you with valid information as it becomes available. The official decision has been made to move all 2020 North American Stadium Tour dates into the summer of 2021. The new stadium dates are being rescheduled, your tickets will be honored for all postponed shows and refund policy information will be made available shortly. Stay tuned, be safe and we will see you next year."
"The Stadium Tour" was originally scheduled to kick off in less than three weeks — on June 18 at TIAA Bank Field in Jacksonville, Florida — and run through September 5 in Los Angeles. The bands reportedly also booked time at VyStar Veterans Memorial Arena in Jacksonville to rehearse for the tour.