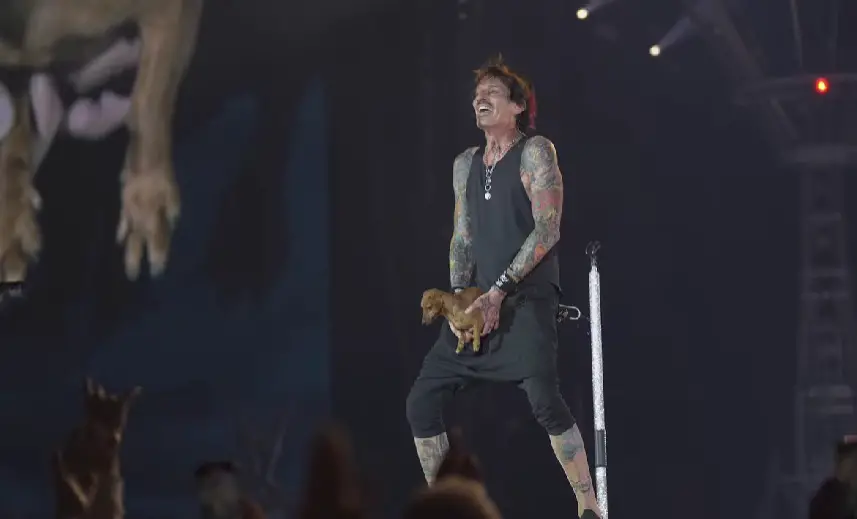 At MÖTLEY CRÜE's last night's (August 27) concert in Los Angeles, drummer Tommy Lee once again addressed a recent controversy about a nude selfie he posted.
In a video posted on his Instagram account, he is seen talking to the audience at the band's show at SoFi Stadium.
Prior to launching into the CRÜE's classic ballad "Home Sweet Home," he told the crowd: "Some of you might've heard this before, but a couple of weeks ago we had a break on this tour and I went to some f*ckin' island in Bora Bora and I got f*ckin' loose, drunk as f*ck, f*ckin' wobbler. I f*ckin' fell the f*ck off. So what happened is I got all drunk, took a bunch of pictures of my d*ck, tossed them up on Instagram.
"And so I figured they took them down from Instagram, and you guys wanna see my wiener? You guys wanna see the sh*t? Is that a yeah? All right, let's go. Let me show you my f*ckin' weiner. You ready? There it is," he added as he pulled out a live Dachshund from his pants. Dachshund are sometimes called wiener dogs because their long bodies resemble hotdogs.
Remaining dates and tickets for CRÜE's "The Stadium Tour" with DEF LEPPARD can be found here.