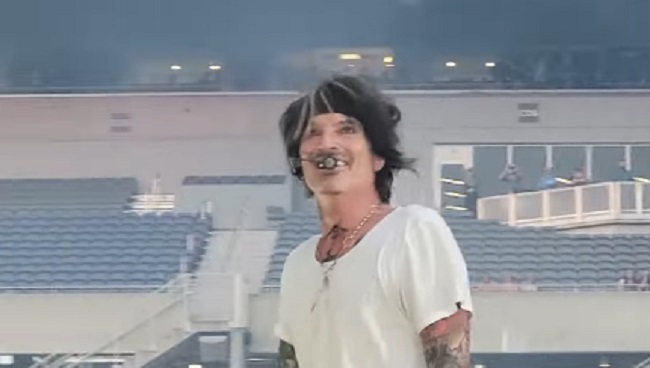 As for the first two shows of "The Stadium Tour," MÖTLEY CRÜE's Tommy Lee once again sat behind the drums for only the first three songs of the band's concert last night at Camping World Stadium in Orlando, Florida.
Lee played "Wild Side", "Shout At The Devil" and "Too Fast For Love" with his bandmates and then left from behind his kit to address the crowd.
"This is the last time I'm gonna say this s**t, 'cause that's getting' f**kin' old," Lee said (see video below). "About f**kin' two weeks ago, I broke not one, not two, not three but four f*ckin' ribs right here. Crack.
"I'm not gonna tell you how because it's f*ckin' bulls**t. I wish I had a cool story for you, but I definitely don't, man; it ain't f*ckin' cool… Anyway, my buddy Tommy back here — Tommy's gonna f*ckin' help me out here.
"I don't know if anybody here — I'm sure somebody had to break some ribs. It is f*cked up. It hurts to breathe; it hurts to f*ck; it hurts to play drums; it hurts to do f*cking anything.
"Anyway, Tommy, you f*cking get it, buddy. I'll see you guys in a minute. I'll be back. On with the motherf*ckin' show. Let's go."
Filling in for Lee is Tommy Clufetos (OZZY OSBOURNE, BLACK SABBATH).
Remaining dates and tickets for "The Stadium Tour" can be found here.